The Series I digital torque tester is an ideal tool for calibrating electric screwdrivers with torque control. It features choice between several modes:
- peak mode to capture the peak torque achieved during a test
- real time mode to display torque transients
- peak down mode to capture critical first peak value.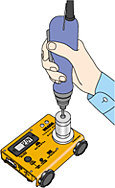 Standard 3/8" drive is suitable for checking torque wrenches but not for impact wrenches. The digital torque testers are sold in kit form including tester, hard carrying case, 2 smart driver adapters and AC charger/adapter. A calibration kit is also available.
Do not use with impact or air tools
(Ask for DI-1M impact wrench torque tester).
Smart driver adapters simulate screw tightening. This eliminates the need for reversing the power driver which is required for conventional driver adapters.
NOTE:
The Series I Torque Tester is not CE certified