Tramex Moisture Meters

Tramex Digital and Analog Moisture Meters

Checkline offers a whole range of Tramex moisture meters to test moisture of all kinds of wood, concrete and cement and to detect moisture in glass reinforced plastic. Wood moisture meters are available with different pin sizes for destructive measurements, but we also offer models that are capable of non-destructive wood moisture content measurement. Tramex concrete moisture meters are especially designed for measuring moisture levels of floors and walls and can be used to determine drying time.

Select a product below and click an image for more product information.


Tramex Dec Scanner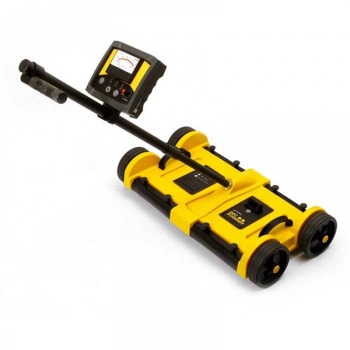 Non-destructive, instant detection of leaks and moisture penetration
Price

€ 6.445,00
More information
Tramex RWS Tramex Roof & Wall Moisture Scanner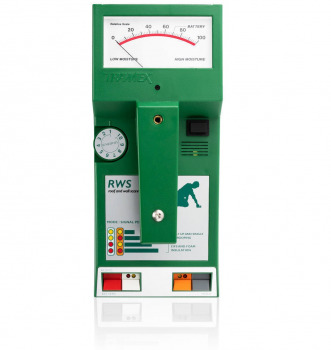 Roof & Wall Moisture Scanner
For tracing leaks into the waterproofing membrane back to the source
For non-destructive moisture evaluation of roofs and EIFS building envelope
Price

€ 1.215,00
More information
Tramex MRH III Digital Moisture & Humidity Meter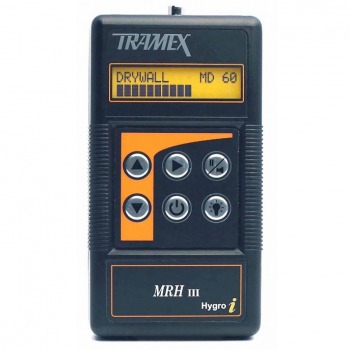 Tramex Non Destructive Moisture & Humidity Meter
Measurement method:
Non-destructive moisture measurement, 1" (25 mm) signal penetration depth
Typical Applications:
- wood,
- drywall,
- masonry,
- roofing,
- other construction materials

Price from

€ 510,00
More information
Tramex CMEXpert II CMEXPert II Digital Concrete Moisture Meter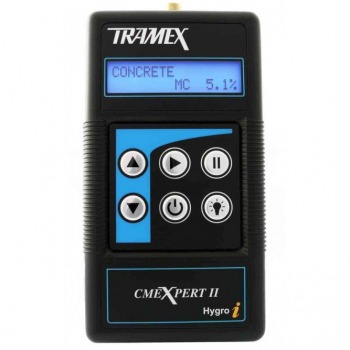 Tramex CMEXpert II Non Destructive Concrete Moisture Meter
Measures to 7% moisture content in concrete / from 7% to 40% moisture content in wood
Optional plug-in probes for relative humidiy, temperature, dew-point and mixing ratio
CME5 Tramex Concrete Moisture Meter 5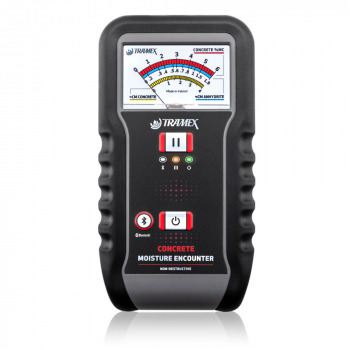 Tramex Non Destructive Concrete Moisture Encounter 5
Measures moisture content instantly in concrete according to ASTM F2659 norm
CMEX5 Digital Multi Moisture Meter for Concrete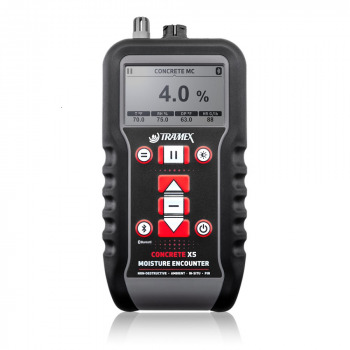 All-in-one instrument for flooring professionals
New, rugged ergonomically designed enclosure
Non-destructive in operation with no need to probe, drill or mechanically damage the surface
Bluetooth connection to iOS & Android App
ME5 Tramex Moisture Encounter 5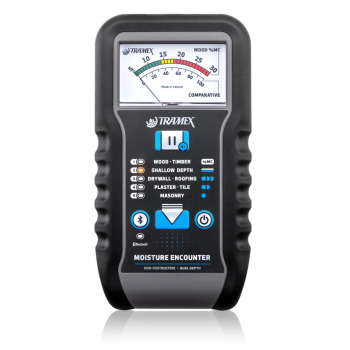 non-destructive moisture meter
for instant moisture measurement and evaluation
Tramex Skipper Moisture Meter 5 Non-Destructive Marine Moisture Detector
Tramex Skipper 5 Non-Destructive Marine Moisture Detector For Boats
Measurement method:
Non-destructive moisture measurement, 30.0 mm signal penetration depth
Typical Applications:
- Wooden boats
- GRP boats