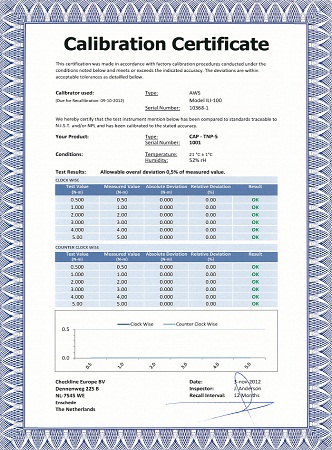 Click on an image for a larger image
Cic-Torque Torque Instrument Calibration
Checkline Europe BV Calibration Service
In order to secure the quality of measuring results it is required to have your torque instrument periodically checked and certified. Furthermore is this periodical calibration obligated for companies that work in accordance with certain standards and perform certified measurements.

In our Calibration Laboratory torque instruments will be certified and calibrated in accordance with the supplier's/ manufacturer's procedures and specifications, traceable to N.I.S.T. and/or NPL and has been calibrated to the stated accuracy.

Short lead time
We strive to keep our turnaround as short as possible.
The goal is to return the calibrated instrument within two working days from receipt.

Certification /Calibration /Repair
If during certification the torque instrument no longer meets the required specifications, it will be adjusted and re-calibrated.
If required, you can receive the measurement results of before and after the adjustment(s). This can be indicated on the Service Return Form.

For our repairs, only original parts are being used, with their corresponding warranty.

Together with the Service Return Form (see below), your torque instruments* can be sent to:

Checkline Europe BV
Attn. Repair/ Calibration Department
Dennenweg 225-B
7545WE Enschede
Netherlands

* Please add power supply.


Short turnaround
Easy planning of calibration
| | |
| --- | --- |
| Calibration CAP-TNP | Calibration Inspection & Certificate CAP-TNP |
| Calibration TT-QC | Calibration Inspection & Certificate TT-QC Torque Tester |
All mentioned prices are excluding VAT & excluding shipment costs.
Availability: Available , preorder 1-2 weeks , special order, request