Dew Point Meters
To prevent potential coating failure, surface preparation and coating application should be performed under optimal environmental conditions. By using the dew point meter from Checkline Europe, the user can evaluate air temperature, relative humidity, surface temperature and dew point temperature to establish the ideal condition for applying a coating. The dew point monitor is ideal for surface preparation as required by high quality standards such as ISO 8502-4, BS 7079-B4, ASTM D3276-05, NSTM 009-32, IMO PSPC, and SSPC-PA7.
PosiTector-DPM Dew Point Meter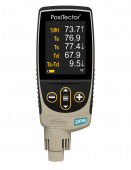 Measures and records climatic parameters including: Relative humidity, air temperature, surface temperature, dew point temperature and difference between surface and dew point temperatures.
Internal memory storage for 2,500 datasets in up to 100 batches (groups).