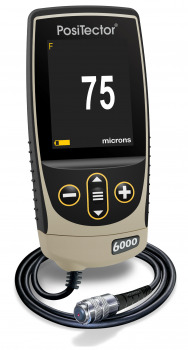 Click on an image for a larger image
PosiTector 6000AN Anodizing Thickness Gauge

Range:
0 - 625µm
Resolution:
0,1 µm
Non-Ferrous Only
The 6000AN Series Anodizing Coating Thickness Gauge is a versatile, rugged tester using eddy current principles to measure coating thickness on non-ferrous metals, accurately and quickly.
Measures Non-Magnetic Coatings (Anodizing, Paint) up 25 mils (0-625 µm) applied to Non-Ferrous metals.
All models are offered in three possible configurations; BASIC (1), STANDARD (2) and MEMORY (3) permitting users to select the feature set most suitable for their application. Refer to table below summarizing the different features included with each type "1", "2" or "3".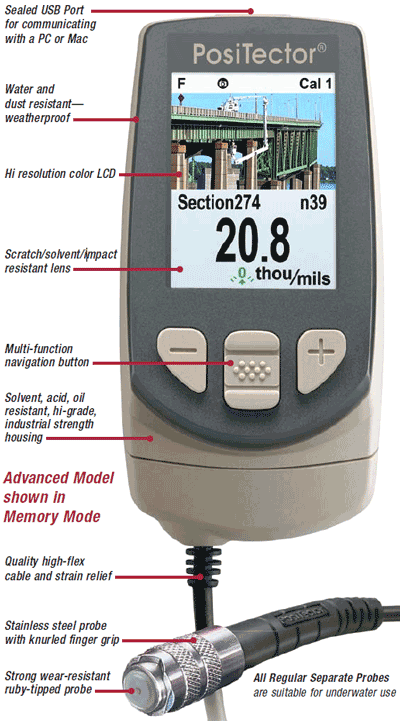 Easy-To-Use
Ready to measure—no calibration adjustment required for most applications
Enhanced one-handed menu navigation
Flashing display—ideal in a noisy environment
RESET feature instantly restores factory settings
Durable
Solvent, acid, oil, water and dust resistant - weatherproof
Wear-resistant probe tip
Shock-absorbing, protective rubber holster with belt clip
Two year warranty on gage body AND probe
Accurate
Certificate of Calibration showing traceability to NIST included (Long Form)
Built-in temperature compensation ensures measurement accuracy
Hi-RES mode increases displayed resolution for use on applications that require greater precision
Conforms to national and international standards including ISO and ASTM
Versatile
Fully interchangeable probes are compatible with ALL gage bodies
Multiple Calibration adjustment options including 1 point, 2 point, known thickness, average zero
Selectable display languages
Hi Contrast backlit display for bright or dark environments
Flip display enables right-side-up viewing
Extended cables available (up to 75 m/250 ft) for underwater or remote measuring
Uses alkaline or rechargeable batteries (built-in charger)
Powerful
Statistics mode continually displays/updates average, standard deviation, min/max thickness and number of readings while measuring
HiLo alarm audibly and visibly alerts when measurements exceed user-specified limits
FAST mode - faster measurement speed for quick inspection
USB port for fast, simple connection to a PC and to supply continuous power. USB cable included
USB mass storage - stored readings and graphs can be accessed using universal PC/ Mac web browsers or file explorers. No software required
Every stored measurement is date and time stamped
Software updates via web keep your gage current
Connects to PosiTector.net
Eigenschappen Vergelijkingstabel

Standard
(1)

Advanced
(3)

Hoog Contrast LCD Display

Schwarz/Weiß

Farbig

Algemene functies

Standard
(1)

Advanced
(3)

FAST modus - hogere meetsnelheid voor snelle inspectie

SCAN Modus - verricht continue metingen zonder de meetsonde op te tillen

-

Hoog-Laag grenzen duiden hoorbaar en zichtbaar aan wanneer de meting uw specifieke limieten overschrijdt

Bereken direct gemiddelde, standaardafwijking, min/max dikte en aantal metingen tijdens het meten

Hulp op het scherm, real time grafische weergave, afbeelding respons en batch opmerkingen

-

Geheugenfuncties & capaciteit

Standard
(1)

Advanced
(3)

Opslag Capaciteit voor Metingen

250 in 1 groep

10.000 in maximaal 1000 groepen

Batchnamen creëren en direct aantekeningen met behulp van het QWERTY toetsenbord toevoegen.

-

SSPC PA2 functie bepaalt of film dikte van een groot gebied voldoet aan de door de gebruiker gespecificeerde min/max niveaus

-

PSPC 90/10 functie bepaalt of een coating systeem overeenkomt met een IMO prestatie standaard voor beschermende coatings

-

Meerdere opgeslagen kalibratie aanpassingen voor het meten op een verscheidenheid aan ondergronden

-

Aansluitmogelijkheden

Standard
(1)

Advanced
(3)

USB-poort voor snelle, makkelijke verbinding met een pc en voor continue energievoorziening. USB-kabel inclusief.

Wifi maakt een draadloze synchronisatie met PosiSoft.net, het downloaden van software updates en een verbinding met mobiele randapparatuur voor verdere gebruiksdoeleinden mogelijk.

-

functie voor dataoverdracht naar een pc of optionele printer.

-

PosiSoft toepassingen

Standard
(1)

Advanced
(3)

PosiSoft Desktop Software voor PC of Mac computer

PosiSoft USB Drive
U kunt uw PosiTector via de pc net zoals een flash drive openen. Het openen en printen van meetwaardes en grafieken is met behulp van een universele pc/mac webbrowser of data-explorer mogelijk.

PosiSoft.net (in het verleden PosiTector.net)
Cloud-gebaseerde applicatie die een centraal beheer van uw PosiTector meetwaardes mogelijk maakt.

PosiSoft Mobile
Software applicatie voor mobiele randapparatuur. Wordt alleen voor de geavanceerde uitvoering aangeboden.

-
Measuring principle:
magnetic induction principle (Ferrous)
eddy-current principle (Non-Ferrous)
Display:
Backlit & Reversible LCD
Data Output:
IR & USB - "2" & "3" Models
Bluetooth - "3" Models
Surface Temp.:
Maximum 120 °F / 49 °C
Power:
3 AAA batteries, included
Dimensions:
5.75" x 2.5" x 1.2" (146 x 64 x 31 mm)
Weight:
5.8 oz. (165 g) without batteries
Protection Class:
Meets or exceeds IP5X, Solvent, acid, oil, water & dust resistant
Calibration Certificate:
Certificate of Calibration showing traceability to NIST included
ALL Gauges are supplied as a complete kit including precision plastic shims, protective rubber holster with belt clip, wrist strap, 3 AAA alkaline batteries, instructions, nylon carrying case with shoulder strap, protective lens shield, Long Form Certificate of Calibration traceable to NIST, USB cable, two (2) year warranty.

Product name
Price
Quantity