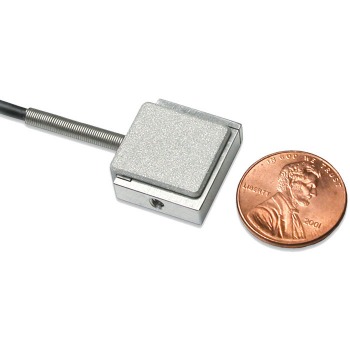 Click on an image for a larger image
R04 Series Miniature S-Beam Force Sensor

The Series R04 is an extremely compact force measurement sensor for tensile and compressive loads in applications with limited space.
The Miniature S-Beam Force Sensor is available in capacities from 1 N to 500 N and every capacity has the same miniature dimensions. The sensor features outstanding mechanical overload protection. To top it off, threaded holes on two sides for the mounting of attachments or implements make it easy to configure according to a wide variety of applications.

The R04 Series is compatible with force gauge Series 7i, 5i and 3i indicators (sold separately) and through its unique Plug & Test technology the sensors can easily be interchanged.
Compatible with the Series 7i, 5i and 3i digital force indicators
Unique Plug & TestTM connector holds all calibration and configuration data
Ultra-compact size
Measures tensile and compressive forces from 1N up to 500 N
NIST-traceable certificate of calibration included
Warranty: 3 years
Model
Capacity with model 5i indicator
Resolution with model 5i indicator
Capacity with model 3i indicator
Resolution with model 3i indicator
MR04-025
0.25 IbF
4 ozF
100 gF
1 N
1000 mN
0.0001
0.002
0.05
0.0005
0.5
0.25 lbF
100 gF
1 N
0.0001
0.05
0.0005
MR04-05
0.5 lbF
8 ozF
250 gF
2.5 N
2500 mN
0.0002
0.005
0.1
0.001
1
0.5 lbF
250 gF
2.5 N
0.0002
0.1
0.001
MR04-2
2 lbF
32 ozF
1000 gF
1 kgF
10 N
0.001
0.02
0.5
0.0005
0.005
2 lbF
1000 gF
1 kgF
10 N
0.001
0.5
0.0005
0.005
MR04-5
5 lbF
80 ozF
1000 gF
2.5 kgF
25 N
0.002
0.05
0.5
0.001
0.01
5 lbF
1000 gF
2.5 kgF
25 N
0.002
0.5
0.001
0.01
MR04-10
10 lbF
160 ozF
5000 gF
5 kgF
50 N
0.005
0.1
2
0.002
0.02
10 lbF
5000 gF
5 kgF
50 N
0.005
2
0.002
0.02
MR04-20
20 lbF
320 ozF
10000 gF
10 kgF
100 N
0.01
0.2
5
0.005
0.05
20 lbF
10000 gF
10 kgF
100 N
0.01
5
0.005
0.05
MR04-50
50 lbF
800 ozF
25000 gF
25 kgF
250 N
0.02
0.5
10
0.01
0.1
50 lbF
25000 gF
25 kgF
250 N
0.02
10
0.01
0.1
MR04-100
100 lbF
1600 ozF
50000 gF
50 kgF
500 N
0.05
1
20
0.02
0.2
100 lbF
50000 gF
50 kgF
500 N
0.05
20
0.02
0.5
| | |
| --- | --- |
| Accuracy: | ± 0.2% of full scale + indicator |
| Weight: | 0.007 kg |
| Warranty: | 3 years |
All mentioned prices are excluding VAT & excluding shipment costs.
Availability: Available , preorder 1-2 weeks , special order, request