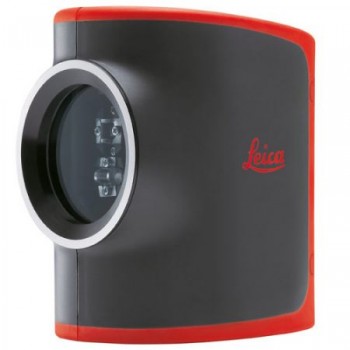 Click on an image for a larger image
Leica Lino L2 Line Laser - The perfect alignment tool
The timeconsuming and tedious drawing of lines on the wall is a thing of the past. The Leica LINO™ L2 projects exactly, quickly and easily – allowing you to concentrate on the job in hand.

Self-levelling
It is not necessary to tediously align the device to obtain horizontal or vertical lines. Minor angular misalignments of ± 4° are compensated automatically. If the angular misalignment is greater, the device does not project any lines. Errors are prevented.

Very easy to see laser lines
It is possible, e.g., to transfer reference points from one wall to the next. Leave your spirit level and string in your tool box.

Excellent visibility
The Leica LINO L2 is equipped with Leica's Power Range Technology to achieve an excellent visible laser line at greater distances. When utilised with the Leica LL2 detector eye the range can be increased to 30m inside or out.

Exact 90° angle
Alignment work, such as marking 90° angles, is performed at the touch of a button. You really save time!

Very high accuracy
With projection and levelling accuracy of ±1mm, the Leica LINO L2 is one of the most precise instruments in its class.

Lock function
You can manually switch off the self-levelling using the lock function. The laser line can then be projected at any angle.

Multifunction Adapter
The Leica LINO L2 magnetic multifunction adapter can be utilised as a mini tripod or as wall bracket. The design incorporates a magnetic plate allowing the bracket to be positioned against a metal surface.

Self-levelling
Exact 90° angle
Supplied with a multifunction magnetic tripod adapter
Very easy to see laser lines
Lock function for projection at any angle
Very high accuracy
| Function | Lino P3 | Lino P5 | Lino L2 | Lino L2+ | Lino L2P5 |
| --- | --- | --- | --- | --- | --- |
| Plumbing up and down | | | | | |
| Setting out right angles | | | | | |
| Horizontal levelling | | | | | |
| Vertical aligning | | | | | |
| Vertical and horizontal aligning | | | | | |
| Aligning at any angle | | | | | |
The Leica Lino L2 Self levelling precision line-laser is delivered as a complete kit including:

- Leica Lino L2 line-laser
- Pouch / carrying bag
- Target plate
- Ball adapter
- Magnetic multifunction adapter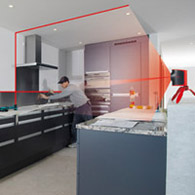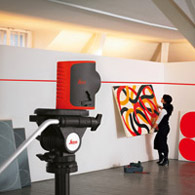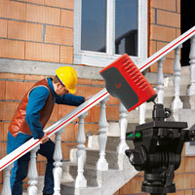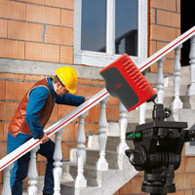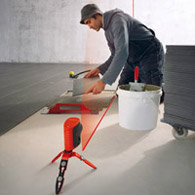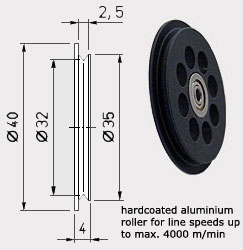 | | |
| --- | --- |
| Range | Up to 15 m (dependent on the lighting conditions) >30 m with detector |
| Levelling accuracy | ± 1 mm @ 5 m |
| Self-levelling range | 4° ± 0,5° |
| Horizontal accuracy | ± 1 mm @ 5 m |
| Vertical accuracy | ± 0.75 mm @ 3 m line length |
| Laser type | 635 nm, laser class II |
| Battery type | AA, 3 x 1,5 V |
| IP54 | Protected against dust, splashes |
| Operating temperature | –10°C to 40°C |
| Storage temperature | –25°C to 70°C |
| Size (H x D x W) | 96 x 91 x 54 mm |
| Weight (without batteries) | 320 g |
| Tripod screw | 1/4" |
| Warranty | 2 + 1 year |