TA201 Tachometer with calculation functions
High quality tachometers by IVO, available with three different supply voltages. The TA201 is equipped with a mounting plate to install the tachometer in many applications.

It is possible to display ratio, difference, stretching / shrinking, run time, time measurement with start and stop signal, length of period, pulse duration or measurement of pulse rate via the calculation functions.
Pulse valuation can be programmed from 0.0001 to 9999.99
Sensor logic can be programmed
Measurement according to measurement of length of period
Frequencies processed up to 40 kHz
Precise measurement due to phase evaluation
Pin assignment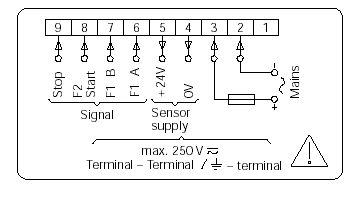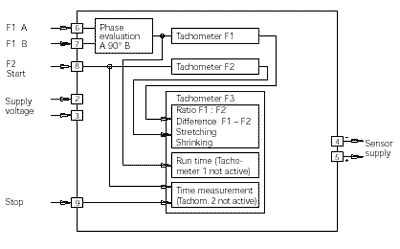 Display:
7-segment LED-display
6-digit display of real values, 14 mm high
Decimal point can be programmed
Suppression of leading zero
Operation, keypad:
Front membrane with short-stroke keys
Front dimensions:
DIN housing 96 x 48 mm
Mounting:
Front-plate installation
Fastening:
By means of clamping frame
Weight:
Version AC: approx. 350 g
Version DC: approx. 250 g
Connection:
Plug-in screw terminals
Grid 5.08 mm / 3.81 mm
Core cross-section:
Max. 1.5 mm2
Housing material:
Polycarbonate black, UL 94V-0
Ambient temperature:
0...+50 °C
Storage temperature:
-20...+70 °C
Relative humidity:
Max. relative humidity 80 %, at 25 °C, non condensing
Protection:
Front IP 65 to DIN 40050
General rating:
EN 61010 Part 1
- Protection class II
- Overvoltage protection categ. II
- Contamination factor 2
Interference immunity:
EN 50082-2
Emitted interference:
EN 50081-1
Supply voltage:
Choice of two voltages via switch on device.
Always set to higher voltage when supplied.
115 ±10% / 230 VAC ±10% (50 / 60 Hz)
24 / 48 VAC ±10% (50 / 60 Hz)
24 VDC ±10%, 5% RW
Power consumption:
7 VA, 5 W
Sensor supply:
12...26 VDC / max. 100 mA
Signal inputs:
Comparator inputs
PNP, NPN, Sinus or NAMUR without explosion protection
Voltage level 4...40 V
Input resistance 3 kOhm
Input frequency:
F1/F2 10 kHz / 40 kHz or 25 Hz
Control inputs:
Control inputs for Start, Stop
Data back-up:
> 10 years via EEPROM
If the desired model is not shown in the list of prices, price is on request