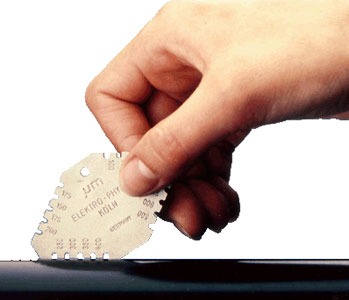 Click on an image for a larger image
SurfaTest wet film coating thickness gauge

The SurfaTest wet film coating thickness gauge allows to easily and quickly determine the thickness of freshly applied, wet paint layers.
The SurfaTest wet film comb is to be placed on the still damp coating, just straight after having applied the paint by pressing the two outer teeth down to the substrate.
The thickness of paint coatings can be read at 16 measuring points. The layer thickness of the wet film lies between the last wet and the first dry tooth. Please remember to clean the comb after the application by using a suitable solvent to remove paint residue.
The SurfaTest has an embossed scale and is made of stainless steel.
Measurement method:
DIN EN ISO 2808, method 1A
16 measurement points
Mils and micrometer scaling
Micrometer: 25, 50, 75, 100, 125, 150, 175, 200, 250, 300, 350, 400, 500, 600, 700, 800
Mils: 1, 2, 3, 4, 5, 6, 7, 8, 10, 12, 14, 16, 20, 24, 28, 32
The SurfaTest wet film coating thickness gauge is delivered in a set consisting of the measuring comb in a eatherette case.