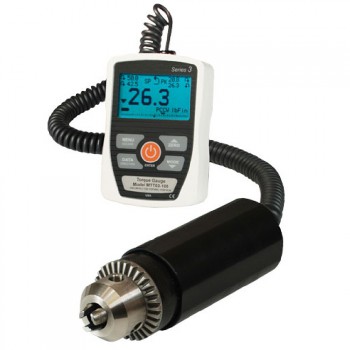 Click on an image for a larger image
Series-TT03 Digital Torque Meter for torque testing applications

Exclusively developed for clockwise and counter-clockwise torque testing applications in nearly every industry, this new Series TT03 digital torque gauges come with capacities from 7 to 1,150 Ncm (10 ozFin to 100 lbFin).
Our new TT03 has a special remote torque sensor with Jacobs chuck, perfect for holding a sample, piece, or fixture. The torque tester's aluminum housing is not only solid, but also permits hand-held use or test stand mounting for more complex testing requirements. Furthermore, with a sampling rate of 2,000 Hz these gauges ensure accurate results under a wide range of test conditions.
Amongst the outstanding features are the pass-fail testing that is made possible through set point indicators as well as the overload protection of 150% of capacity.
A backlit graphic LCD displays large characters with a convenient menu to access the gauges' features and configurable parameters. In addition an analog load bar shown on the display indicates graphically the currently applied force.
Naturally the new Series TT03 digital torque gauges have an USB output for data collection and the MESURTM Lite data collection software is likewise included. MESURTM Lite tabulates single point data, which can the be exported to Excel for further data manipulation - and this in only one-click!
Capacity x Resolution
Capacity: This value represents the maximum measurable load. All available capacities are listed for each available unit of measurement. All instruments measure from 0 to the indicated capacity.

Resolution: This value represents the smallest measurable increment. For Plug & TestTM sensors, the resolution depends on which indicator is used. Refer to the Capacity x Resolution tables on the particular sensor's webpage or data sheet.


Peak memory for clockwise and counter clockwise readings saved and displayed
High-speed 2,000 Hz sampling rate
Single Reading USB data output
Programmable set points with pass/fail indicators
Configurable audio alarms and key tones
Live load bar graphs with set point markers
CE mark
Made in the USA
Battery or AC operation
Model
oz-in
lb-in
kg-mm
Ncm
MTT03-10Z
10
0.01


7
0.005
7
0.005
MTT03-20Z
20
0.02


14
0.01
14
0.01
MTT03-50Z
50
0.05


36
0.05
36
0.05
MTT03-12


12
0.01
140
0.1
135
0.1
MTT03-50


50
0.05
580
0.5
570
0.5
MTT03-100


100
0.1
1150
1
1150
1
MESURgauge Mesurgauge Load & Travel Analysis Software
Sends data from a force or torque gauge and travel display to a PC for further analysis
More details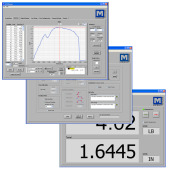 AC1008 Table Top Stand for 5I, 3I or TT03
For mounting the 5I, 3I or TT03 Series displays on a table
More details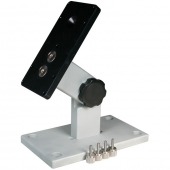 AC1004 Mounting Kit for 5I, 3I or TT03 to TS-Series Test Stands
Mounting Kit for 5I, 3I or TT03 to TS-Series Test Stands
More details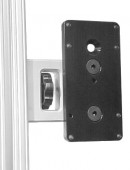 Accuracy:
±0.5% of full scale ±1 digit
Calibrated range
10 - 100%
Sampling rate:
2,000 Hz
Power:
AC or rechargeable battery. Multi-step low battery indicator is displayed, gauge shuts off automatically when power is too low.
Battery Life:
Backlight on: up to 7 hours of continuous use
Backlight off: up to 24 hours of continuous use
Measurement units:
lbFin, ozFin, kgFmm, Ncm (depending on model)
USB Output:
Individual data point output by pressing DATA key. Configurable up to 115,200 baud.
Configurable Settings:
Digital filters, USB output settings, backlight, automatic shutoff, key tones, audio alarms, default settings, calibration
Safe overload:
150% of full scale (display shows "OVER" at 110% and above)
Weight:
1.8 lb [0.8 kg]
Environmental requirements:
40°F - 100°F [5°C - 45°C], < 96% humidity (non-condensating)
Warranty:
3 Years
The TT03 is supplied as a complete kit including the force display with torque sensor, universal AC adapter, battery, chuck key, quick-start guide, USB cable, basic data xfer software and NIST traceable calibration cert if a fitted carrying case.

All mentioned prices are excluding VAT & excluding shipment costs.
Availability: Available , preorder 1-2 weeks , special order, request