The ESM1500 is the latest single-column Test Stand for tension and compression measurement applications up to 6.7 kN.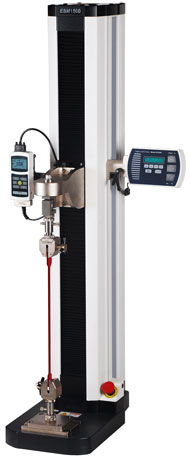 Due to the highly configurable characteristics, the ESM1500 test stand is very suitable for test settings in laboratory and production environments. Both a combination of indicator-load cell and force gauge are suitable for using the ESM1500 motorized test stand. The sample setup and its positioning have never been so easy: the FollowMe™ forced based positioning allows to use your hands as a guide – just push and pull on the force gauge or load cell to move the crosshead at various speed rates.
The motorized ESM1500 provides a generous travel, clearance and depth dimensions, making this test stand qualified for various test applications, like break testing, cycling, limit testing to a load or distance, loadholding, elongation testing, tensile testing, compression testing, and more. All test applications can be entered by a user-friendly and password protected menu: configure the test speed, force and distance limits, cycling, preload and many other functions to your own needs.
Force and travel data of the ESM1500 force test stand can be transferred to a PC. The MESUR™ gauge software enables graphing and analysis of the retrieved data. Additionally, a full test stand control by your PC is possible with a custom-written program in any language supporting ASCII communications.