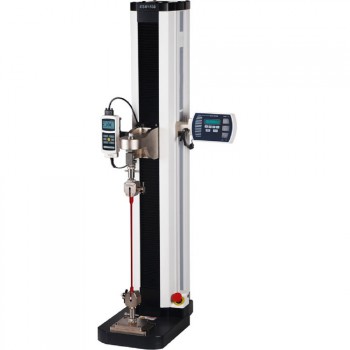 Click on an image for a larger image
ESM1500 Motorized Test Stand with high capacity

The ESM1500 is the latest single-column Test Stand for tension and compression measurement applications up to 6.7 kN.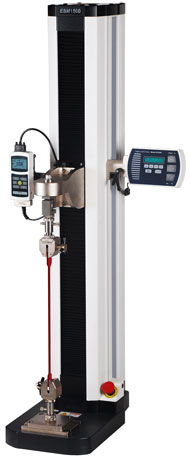 Due to the highly configurable characteristics, the ESM1500 test stand is very suitable for test settings in laboratory and production environments. Both a combination of indicator-load cell and force gauge are suitable for using the ESM1500 motorized test stand. The sample setup and its positioning have never been so easy: the FollowMe™ forced based positioning allows to use your hands as a guide – just push and pull on the force gauge or load cell to move the crosshead at various speed rates.

The motorized ESM1500 provides a generous travel, clearance and depth dimensions, making this test stand qualified for various test applications, like break testing, cycling, limit testing to a load or distance, loadholding, elongation testing, tensile testing, compression testing, and more. All test applications can be entered by a user-friendly and password protected menu: configure the test speed, force and distance limits, cycling, preload and many other functions to your own needs.

Force and travel data of the ESM1500 force test stand can be transferred to a PC. The MESUR™ gauge software enables graphing and analysis of the retrieved data. Additionally, a full test stand control by your PC is possible with a custom-written program in any language supporting ASCII communications.

Password protection of test parameters
Adjustable, removal controller with intuitive menu navigation
USB data output: force vs. time or force vs. distance
Suitable for crowded work benches due to compact footprint
Stepper is motor-driven, producing smooth and quiet operation with no speed variation under load
Compatible with indicators and load cells, as well as force gauges
Ergonomic design, with smart, clean cable management
Most electronics housed in an integrated removeable enclosure, easily removed and transported
CE conformity mark
3 years warranty
The ESM1500 motorized test stand can be equipped with multiple optional controller functions to create your own, individual configuration and meet your specific requirements. Please consider that some features require the Series 5 or Series 7 force gauge or the Model 7i or 5i Indicators for all available test functions.

FollowMe™ force-based positioning (SF008):
Crosshead movement responds to manually pushing or pulling on the force gauge shaft or load cell. Increasing force produces greater speeds. Ideal for setups and quick positioning. Requires Series 7 or 5 gauge or indicator.
Travel Indication (SF009):
Travel is indicated on the control unit display. Output via USB. An internal scale utilizing Renishaw technology produces significantly higher accuracy than with conventional rotary encoder-based designs. Backlash and nonlinearity are virtually eliminated.
Computer control (SF010):
The ESM1500 can be fully controlled by a PC through a custom-written program in any language supporting ASCII communications. Also responds to the legacy Chatillon TCD command set and legacy Nexygen TCD software (not available from Mark-10). Requires Series 7 or 5 gauge or indicator, SF09 travel indication and SF011 programmable set points.
Programmable travel limits (SF011):
The stand stops at or cycles between programmable upper and lower travel distances. Requires SF009 travel indication.
Overload protection (SF012):
Protects a force sensor or force gauge against overload. Set the desired percentage of full scale of the gauge. Adjustable analog output voltage setting allows the stand to interface with virtually any gauge with analog output. Requires Series 7 or 5 gauge or indicator.
Auto return (SF013):
The crosshead moves to a limit switch, force set point, travel position, or break, then stops and reverses direction at full speed to the other limit. Selectable reversing at force set point (requires Series 7 or 5 gauge or indicator), at travel limit (requires SF011) or at break (requires SF019).
Cycling / dwell time (SF014):
Same as auto-return, but with the ability to program up to 100,000 cycles. Programmable dwell time for upper and lower limits (set independently) can be set up for up to 10,000 seconds. Same requirements as auto return function. Add SF016 for independent up and down speeds.
Independent Up and Down speeds (SF016):
Individually configure speeds for the up and down directions.
Low speed extension (SF017):
Extends the standard speed range down to 0.001 in/min (0.02 mm/min).
High speed extension (SF018):
Extends the standard speed range up to 90 in/min (2,300 mm/min).
Break detection (SF019):
Crosshead stops at a sudden drop in force. Programmable percentage of peak force. Requires Series 7 or 5 gauge or indicator.
Loadholding (SF020):
Dynamically adjusts the crosshead position to maintain a programmed load for an indefinite or specified period of time. Requires Series 7 or 5 gauge or indicator. If a specific time is required, order SF014 cycling/dwell time option as well.
Preload/sample touch (SF021):
Stops the crosshead and/or zeroes the travel display at an initial preload - useful in tensile, compression, spring, elongation, and other applications. Preload is programmable as a percentage of force gauge/load cell full scale. Three modes: (1) stop, (2) stop and zero, and (3) zero without stopping. Requires SF009 travel indication and Series 7 or 5 gauge or indicator.
Complete options package:
Included all functions listed above. Requires a Series 7 or 5 gauge or indicator.
The ESM1500 motorized test stand is delivered including following accessories:
all required communication cables ( USB cable and instrument-stand interface cable)
base eye end with 2 locking rings
2 spanner wrenches
gauge/indicator mounting screws
Allen wrench set
Resource CD
Load capacity
< 60 in [1,525 mm]/min: 6.7 kN
> 60 in [1,525 mm]/min: 4.5 kN
Maximum travel distance:
32 in [813 mm]
Speed range:
Standard: 0.5 - 24 in/min [10 - 600 mm/min]
Optional: 0.001 - 90 in/min [0.02 - 2,300 mm/min]
Speed setting accuracy:
±0.2% of setting
Speed variation with load:
±0% [stepper motor driven]
Travel accuracy:
±0.002 in. per 10 in. [±0.05 mm per 250 mm]
Travel resolution:
0.001 in [0.02 mm]
Limit switch repeatability:
±0.001 in [0.03 mm]
Power:
Universal input 80-240 VAC, 50/60 Hz
Weight:
Test stand: 90 kg
Shipping weight: 113 kg
Included accessories:
USB cable, instrument-stand interface cable, base eye end with 2 locking rings, 2 spanner wrenches, gauge/indicator mounting screws, Allen wrench set, Resource CD
Conformance:
CE mark
Warranty:
3 years
R01 Series S-Beam Force Sensor
Measures tensile and compressive forces
Durable S-beam load cell
Capacities available from 250 N to 50 kN
Two threaded holes on each side
More details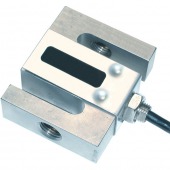 R03 Series Smart sensor for tension and compression force
Measures tensile and compressive forces
Inline force sensor
More details