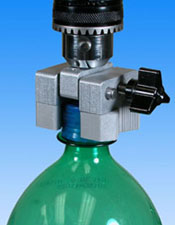 This grip effectively secures round objects during torque and force testing. It is designed with a hex tail with female threads permits mounting to a torque gauge, force gauge, or test stand.
Reversible serrated jaws accommodate samples with diameters of 0.65 - 1.55 in [16.5 - 39.0 mm] while an ergonomic, rubberized knob quickly engages and disengages samples.
This grip can be used either manually with an STJ torque sensor or MGT torque gauge (see application photo right), or in test stand controlled applications with the Series TST torque test stands.