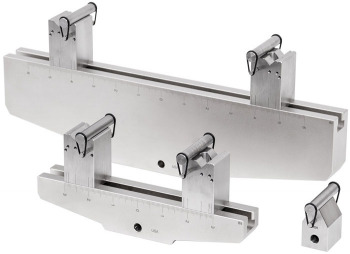 Click on an image for a larger image
G1095-G1096-G1097 3-point / 4-point Bend Fixtures

These new bend fixtures are designed for 3 and 4 point bend testing of plastics, metals, ceramics, tubing, and many other materials.
Two base sizes are available, along with an upper anvil, and optional roller diameters. Use a base-anvil combination for 3-point bend testing or two bases for 4-point bend testing.
Bases feature movable blocks with multiple V-grooves to accept several roller diameters. 10 mm dia. rollers are included, and other sizes are available.
The bases feature engraved rulers, dual-graduated with an inch scale on one side and mm scale on the other. Integrated eye end receptacles facilitate mounting to load cells, force gauges, and test stands. The bases also include thru-holes and mounting screws for direct mounting to certain test stands.
Designed for 3-point and 4-point bend testing
Rugged design
May be used with eye end adapters or mounted to test stands with mounting screws (except anvil - eye end mounting only).
Accommodate a broad sample size range
Dual graduated rulers - in and mm
Capacity
G1095 2.5 kN
G1096 10 kN
G1097 10 kN
Housing material
G1095 2024 Al
G1096 2024 Al
G1097 303 SS
Roller material
G1095 416 SS, hardened
G1096 416 SS, hardened
G1097 416 SS, hardened
Dimensions
G1095 211.6 mm x 57.2 mm x 48.3 mm (length x width x height) , inner span: 152.4 mm
G1096 364 mm x 57.2 x 48.3 mm (length x width x height), inner span: 304.8 mm
G1097 57.2 x 49.5 mm (length x height), inner length: 33.0 mm
Scope of delivery
G1095 Screws for test stand mounting, two 10 mm dia. rollers and o-rings
G1096 Screws for test stand mounting, two 10 mm dia. rollers and o-rings
G1097 10 mm dia. roller and o-rings
Weight
G1095 1.3 kg
G1096 3.2 kg
G1097 0.2 kg
AC1067 -3 - Additional set of rollers for bend fixtures, 10 mm dia., set of 4 (included with
All mentioned prices are excluding VAT & excluding shipment costs.
Availability: Available , preorder 1-2 weeks , special order, request