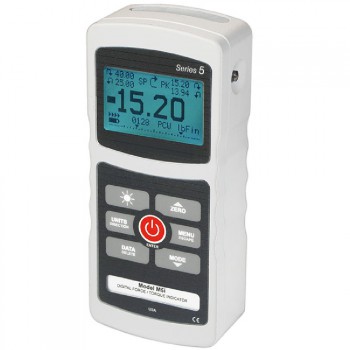 Click on an image for a larger image
Series 5I Advanced Digital Force/Torque Indicator

The 5i Advanced Digital Force/ Torque Indicator's design is perfectly adapted to the use in conjunction with a wide range of Mark 10 sensors for force and torque measurements.
Thanks to its smart Plug & Test ™ technology, all calibrations and configurations are saved within the sensor's smart connector (and not to the indicator). Moreover, the device's reliable calibrations and configurations data storage ensures an accurate interchangeability of the sensors. Naturally, all sensors are also compatible with the Series 3i Force/Torque Gauge.
The 5i is similar to the Series 5 digital force gauges in its menu structure and in most of its specifications. With an amazingly fast sampling rate of 7000Hz, the 5i provides highly accurate readings in a variety of applications and quick-action tests. A backlit, large-letter graphics LCD display and a function menu give easy and quick access to the indicator's various features and configurable parameters and the applied force or torque is graphically displayed by an analog load bar.
The 5i Advanced Digital Force/Torque Indicator also transfers data and statistical calculations directly to a PC via USB, RS-232 and Mitutoyo (Digimatic).The high capacity built-in memory for up to 1000 readings, as well as the integrated setpoints with the indicators and included outputs, make this device perfectly suitable for pass-fail testing and controlling external devices such as alarms, relays or testbeds.
An averaging mode conveniently records the average load over time, while the external trigger mode makes switch activation testing simple and accurate.
The MESUR Lite software for data acquisition is also supplied with the 5i digital torque meter, allowing to create tables from continuous or single-point data and data saved in the indicator's memory can be downloaded at once. The easy "one-click" export allows for a quick transfer of data to Excel for further data processing.
Interchangeable force and torque sensors through Plug & Test technology
Password protection for individual keys and calibration
USB, RS-232, Mitutoyo, and analog outputs
1,000-point data memory with statistics (min, max, mean, standard deviation) and outputs
Programmable set points, with alarms and outputs
Averaging mode - calculates average readings over time
Automatic data output via USB/RS-232
Sensor password protection, for preventing use of an unauthorized sensor
High-speed 7,000 Hz sampling rate
Large backlit graphic display
Live load bar graph with set point markers
Peak readings and set points always displayed
External trigger mode - for switch contact testing or remotely stopping display update
5 selectable units of measurement
Configurable audio alarms and key tones
CE mark
The 5i includes:
a carrying case
universal voltage AC adapter
battery, quick-start guide
USB cable
resource CD (USB driver, MESUR Lite software MESURgauge DEMO software, and user's guide)
NIST-traceable certificate of calibration.
Accuracy:
±0.2% of full scale ±1 digit + sensor
Power:
AC or rechargeable battery. Multi-step low battery indicator is displayed, gauge shuts off automatically when power is too low.
Battery Life:
Backlight on: up to 7 hours of continuous use
Backlight off: up to 24 hours of continuous use
Outputs:
USB / RS-232: Configurable up to 115,200 baud. Includes Gauge Control Language 2 for full computer control.
Mitutoyo (Digimatic): Serial BCD suitable for all Mitutoyo SPC-compatible Devices.
Analog: ±1 VCD, ±0.25% of full scale at capacity.
General purpose: Three open drain outputs, one input.
Set points: Three open drain lines.
Configurable Settings:
Digital filters, outputs, automatic output (via USB/RS-232), automatic shutoff, default settings, averaging mode, external trigger, passwords, key tones, audio alarms, backlight, calibration
Safe overload:
150% of full scale (display shows "OVER" at 110% and above)
Included items:
Carrying case, universal voltage AC adapter, battery, quick-start guide, USB cable, resource CD (USB driver, MESURTM Lite software, MESURTMgauge DEMO software, and user's guide), NIST-traceable certificate of calibration.
Warranty:
3 years (see individual statement for further details)