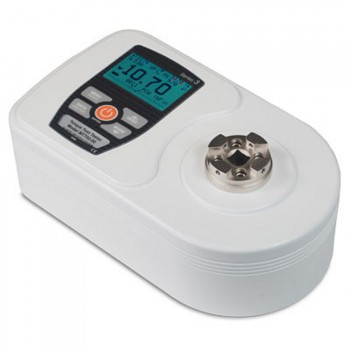 Click on an image for a larger image
Series-TT02 Torque Tool Tester for (Electric) Screw Drivers

Series TT02 Torque Tool Testers is developped for testing manual and electric torque screwdrivers, wrenches, and other tools.
It is highly adaptable: a universal 3/8" square holder fits with common bits and attachments and its robust housing makes it also ideal for applications in production environments. Furthermore this torque tool testers series convinces with an acquisition rate of 7,000 Hz, and an accuracy of ±0.3%, ensuring the most reliable and consistent measurement results.
The TT02 captures peak torque in both measurement directions as it calculates 1st and 2nd peaks - ideal for click-type tools.
Features like USB, RS-232, Mitutoyo and analog outputs, automatic data output/zeroing/data storage, memory storage for 1,000 readings, pass/fail indicators and outputs make this tool very convenient and easy to use. It also provides a password protection for user selected settings and calibration.
The Series TT02 testers is delivered with the data acquisition software MESURlite, which allows for tabulation of continuous or single point data. All data saved in the TT02's memory is available for downloaded in bulk and can be transferred to Excel in only one convenient click.

*Please note that the TT02 is not designed for use with impact tools.
First / second peak capture for CW and CCW directions
3/8" square receptacle accommodates common bits and attachments
High-speed 7,000 Hz sampling rate accurately captures peak torque values
1,000-point data memory with statistics and outputs
USB, RS-232, Mitutoyo, and analog outputs
Break detection: automatic output, data storage, and zeroing upon tool click/slip automates testing processes
Programmable set point indicators and outputs for pass/ fail determination
Password protection prevents unauthorized changes
5 selectable units of measurement
Battery or AC operation
The Series TT02 is delivered including the following items:
1/4" hex to 3/8" square adapter
AC adapter
Battery
Quick-start guide
USB data cable
Resource CD with user manual
MESURlite software
MESURgauge demo software
NIST traceable calibration certificate
Note:
The displayed carrying case with foam filling and bench mounting bracket are optionally available.
Model
Ranges
Resolution
MTT02-12
135 Ncm
1.35 Nm
192 ozFin
12 lbFin
0.1 Ncm
0.001 Nm
0.5 ozFin
0.02 lbFin
MTT02-50
570 Ncm
5.7 Nm
800 ozFin
50 lbFin
0.5 Ncm
0.005 Nm
0.5 ozFin
0.02 lbFin
MTT02-100
1150 Ncm
11.5 Nm
1600 ozFin
100 lbFin
1 Ncm
0.05 Nm
0.005 ozFin
0.5 lbFin
Accuracy
±0.3% of full scale
Calibrated range
10 - 100%
Sampling rate
7,000 Hz
Power
AC or rechargeable battery. Multi-step low battery indicator is displayed, tester shuts off automatically when power is too low
Battery Life
Backlight on: up to 7 hours of continuous use
Backlight off: up to 24 hours of continuous use
Measurement units
Nm, Ncm, ozFin, lbFin, lbFft
Outputs
USB / RS-232: Configurable up to 115,200 baud.
Mitutoyo: Serial BCD suitable for all Mitutoyo SPC-compatible devices
Analog: ±1 VCD, ±0.25% of full scale at capacity
General purpose: Three open drain outputs, one input
Set points: Three open drain lines
Configurable Settings
1st/2nd peak, digital filters, outputs, automatic shutoff, default settings, key tones, backlight, audio alarms, passwords, calibration
Safe overload
150% of full scale (display shows "OVER" at 110% and above)
Weight
2.6 kg (5.8 lb)
Environmental Requirements
5°C - 45°C (40°F - 100°F) <96% humidity (non-condensating)
Warranty
3 years (see individual statement for further details)
All mentioned prices are excluding VAT & excluding shipment costs.
Availability: Available , preorder 1-2 weeks , special order, request