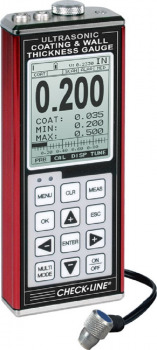 Click on an image for a larger image
TI-CMX Ultrasonic Coating & Wall Thickness Gauge

With the CHECKLINE® TI-CMX you can accurately and quickly measure both coating and wall thickness—from only one side. It is also possible to measure and eliminate the coating from the wall thickness measurement by switching the TI-CMX to the Pulse-Echo mode. This way the user can locate the finest corrosion and pitting—without removing the coating.
The TI-CMX is provided with an oversized graphic LCD which is backlit and displays fonts, graphics and display codes. It also shows all important settings like: Operating Mode, Velocity, Scan Mode, Alarms and other options. The user can set the backlight to the following settings: ON, OFF or AUTO meaning: always-on, always-off or automatically-on when measuring.
The device includes five user-selected operating modes:
Temperature Compensated: Measures wall thickness using Pulse-Echo and automatically adjusts calibration to compensate for changes in material temperature.
Coating On: Measures wall thickness using Pulse-Echo. It separately displays wall & coating thickness.
Coating Off: Measures wall thickness using Pulse-Echo. It displays wall thickness only.
Thru-Coat: Measures wall thickness only using Echo-Echo. (coating is NOT included)
Coating Only: Measures coating thickness only.
Wide variety of dual-element probes can be used for nearly any application.
Bar graph with user-set start end values providing highest resolution around the target thickness value.
Measures both thickness of coatings and paint layers, as well as wall thickness (in one measurement)
Adjustable Gain in 5 steps (VLow, Low, Med, Hi & VHi) in 2db increments providing a 8 db gain adjust range (42–50 db).
Includes NIST-Traceable Calibration.
Auto probe recognition with Auto Zero or Manual Zero.
Differential Mode allows user to set a "target thickness value" and display will show the DIFFERENCE between actual and target thickness as a plus or minus value.
64 custom setups can be stored and retrieved for convenient use and labeled for easy identification
Display Hi/Lo Alarm Limits with audible and visual indicators.
Metal housing provides strong protection against harsh enviroments.
CE Certified.
2 Year Warranty.
TI-CMX-H for surface temps up to 300°F/150°C. Optional hi-temp probes for higher surface temperatures offered
Measures Coatings up to 0.100"
| | |
| --- | --- |
| Hi-Speed Scan Mode | B-Scan Mode |
| | |
| Scan Mode measures 64 times per second, displaying the max and min reading measured during the scan interval. Sample rate is 200/sec when coating measurement is off. | The B-Scan displays a time based cross section view of test material of the contour of the blind, or underside of a pipe or tank application. the B-Scan view draws at a rate of seven seconds per screen from right to left. |
The TI-CMX is supplied as a complete kit including:
- the TI-CMX gauge,
- probe,
- 4 oz. bottle of coupling fluid,
- 2 AA batteries,
- NIST Calibration Certificate,
- operating manual,
- RS-232 cable,
- data transfer software,
- foam-fitted carrying case.


Minimum Radius for Convex Surfaces
8.89 mm
Minimum Radius for Concave Surfaces
76.2 mm
Minimum Headroom
25.4 mm
Minimum Sample Diameter
3.8 mm
Minimum Substrate Thickness - F
NA
Minimum Substrate Thickness - NFe
NA
Range in Steel:
Pulse-Echo Mode: Pit and Flaw detection measures from 0.025 - 9.999inches (0.63 to 254 millimeters)

Echo-Echo Mode: Thru Paint & coatings measures from 0.1 - 4.0 inches (2.54 to 102 mm).
Range will vary +/- depending on the thickness of the coating.
Resolution:
.001 inches (0.01mm)
Velocity Range:
.0492 to .3936 in./ms
1250 to 9999 meters/sec
Measurement Modes:
- Pulse-Echo (corrosion mode)
- Pulse-Echo Coating (Corrosion w/o coating)
- Echo-Echo (thru-paint)
- Temp Comp (auto adjust for material temp)
- Coating Only (Ultrasonic Coating Gauge)
Transducer Types:
Dual Element (1 to 10 MHz).
Output:
RS-232 for upload/download of setups
Memory capacity:
TI-CMX: None
CMXDL model: over 200.000 measurements
Power Source:
Three 1.5V alkaline or 1.2V NiCad AA cells
Battery Life:
Typically operates for 150 hours on alkaline and 100 hours on NiCad
Auto Power off:
After 5 minutes of non-use
Display:
1/8 in. VGA grayscale display 62 x 45.7mm
Keyboard:
Membrane switch with twelve tactile keys
Case:
Extruded aluminum body with nickel-plated aluminum end caps (gasket sealed).
Operating Temperature:
-10° to 60°C (-14° to 140°F)
Dimensions:
63.5 W x 165 H x 31.5 D mm
Certification:
CE Approved, Factory calibration traceable to national standards