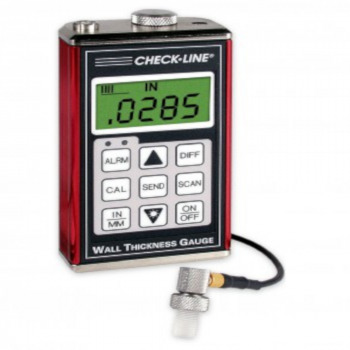 Click on an image for a larger image
TI-007 Precision Ultrasonic Wall Thickness Gauge

Checkline TI-007 Wall Thickness Gauge
With the TI-007 wall thickness gauge you can perform extremely precise and high-resolution measurements on thin-walled metal and plastics. This ultrasonic device is very suitable for use in extreme environments because of it's robust aluminium housing which is sealed for excellent protection.

The TI-007 ultrasonic wall thickness gauge has a MEASURING RANGE from 0.15 to 25.4 mm (0.0060 to 1.0000 inch). It can measure thin materials and automatically remove any coatings in ECHO-TO-ECHO MODE as well as automatically switch to interface echo mode when measuring thicker materials and plastics when using a single element delay tip transducer.

A special model with a Graphite Tip probe for measurement of plastics is also available (TI-007-GT).
Measuring Range


0.15 - 25.4 mm
0.0060 - 1.000 inches
Large, backlit LCD display retains last reading
Resolution of 0.001 mm (0.0001 inch)
RS-232 Data output of individual values for connection to data collection or quality control systems
Selectable units of inch or mm
Includes NIST Calibration Certificate
CE Certified
Optional model available with Graphite Tip for measuring plastics: TI-007-GT
Minimum Radius for Convex Surfaces
0.5" (12.7 mm)
Minimum Radius for Concave Surfaces
2.5" 63.55 (mm)
Minimum Headroom
1.3" (33.0 mm)
Minimum Sample Diameter
0.5 ( 12/7mm)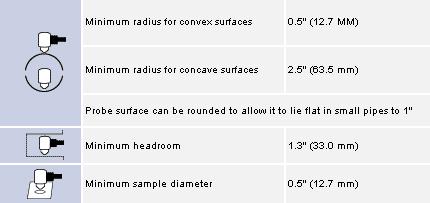 The TI-007 is supplied as a complete kit with the gauge, probe, 4 oz. bottle of coupling fluid, 2 AA batteries, NIST Calibration Certificate and Operating Instruction Manual - all in a foam-fitted carrying case.

P/N
Description
Standard / Optional
Image
X-231-0000
1/4" x 3/8"
for all metals
(Short)
Standard
X-241-0000
1/4" x 1/2"
for all metals
(Long)
Standard
X-633-0000
1/4" x 3/8"
Graphite Tip
for thin plastics
(Graphite Short)
Standard on "-GT" models
X-532-0000
3/16" x 3/8"
Conical Tip
for all metals
(Cone)
Optional
X-533-0000
3/16" x 3/8"
Graphite Tip
for thin plastics
(Graphite Cone)
Optional
Range in Steel
0.15-25.4 mm (0.0060-1.0000" )
Resolution
.0001" (0.001 mm)
Display
4½ - Digit, 0.5" Backlit LCD
Velocity Range
2000-10.000 m/sec. (6.500-33.000 ft./sec )
Transducer
Single element with delay tip. 10 to 22 MHz frequency range.
Probe Wearface
PEEK (Polyethlethylketone)
Cable
4 ft. (1.2 m) waterproof cable with non-polarized, quick-disconnect LEMO connectors. Optional lengths up to 30 m (100 ft )
Outputs
RS-232, single value when send key is pressed
Temp. Limits
Ambient: -30 to 50° C ( -20 to 120° F)
Material: -20 to 100° C (0 to 200° F)
Battery Type
Two AA batteries
Size
64 x 114 x 32 mm
(2.5 x 4.5 x 1.25")
Warranty
Gauge: 5 Years
Probes: 90 Days