TSF High Capacity Test Stand

The
TSF Force Measurement Test Stand
is ideal for spring testing, destructive testing, product integrity testing, and other applications requiring up to 1,000 lb (5,000 N) of push or pull force.
The stand features a large side mounted hand wheel requiring minimal user effort and a rigid 3" x 3" column. A removable steel loading surface with threaded holes for fixture and grip mounting adds flexibility for many testing applications, and a solid metal base contains a storage pocket and holes for bench mounting. Use the TSF with a M5-1000 digital force gauge to form a complete high capacity testing system.
*Shown with optional equipment. Force Gauge, Digital Display and Grips are sold separately
Loading table with 25 #10-32 UNF holes for fixture mounting
Smooth hand wheel operation
Available in vertical and horizontal orientations.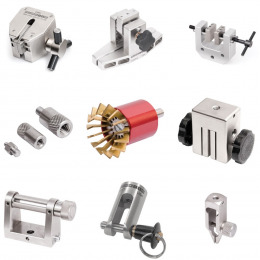 AC1004 Mounting Kit for 5I, 3I or TT03 to TS-Series Test Stands
Mounting Kit for 5I, 3I or TT03 to TS-Series Test Stands
More details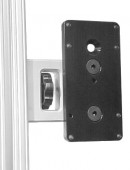 The TSF / TSFH is supplied with four hooks (small, medium, large, and extra large), 1/2-20F adapter plate, 2" and 3" compression plates, two couplers (#10-32 coupler and 5/16-18), and wrench set.
| | |
| --- | --- |
| Capacity: | 4.5Kn (1,000lbs) |
| Maximum Travel: | 100 mm (13.5") |
| Dimensions: | 152mm x 203 mm x 660mm (6"W x 8"D x 26"H) |
| Travel Rate: | 0.34 mm (0.013") / wheel revolution |
| Weight: | Approx. 11.4kg (25 lbs) |
| Warranty: | 3 years |