ES30 Precision Hand Wheel Test Stand

The ES30 Force Measurement Test Stand is a versatile and economical solution for most compression and tensile testing applications. It can accept a wide variety of sample shapes and sizes and can be configured in many positions due to modular design. Precision hand wheel operation enables the user to easily and accurately test up to 1000 N (100 kg / 200 lb) of force. Use the ES30 with a MG series force gauge and grips to create a complete testing solution.

*Force Gauge and Grips Not Included

There is a whole range of force gauges and grips & attachments available for this test stand.

Mounting holes for bench mounting
3 Year Warranty
Modular design: base may be removed and the stand may be used as part of a larger system. It also provides for alternative mounting
Removable base plate with 25 #10-32 threaded holes for fixture mounting
Upgradeable to a motorized test stand by installing a motor drive kit.
Maximum force: 1 kN (100 kg / 200 lb)
Series-3 Digital Force Gauge
High-speed 2,000 Hz sampling rate
USB data output (single data point)
More details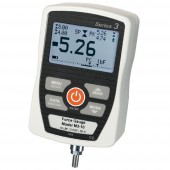 Series-4 Digital Force Gauge with Output
USB, RS-232, Mitutoyo, and analog outputs
3,000 Hz peak sampling rate
More details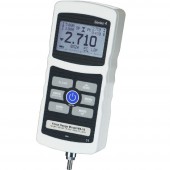 Series-5 Advanced Digital Force Gauge
High-speed 7,000 Hz peak sampling rate
USB, RS-232, Mitutoyo, and analog outputs
More details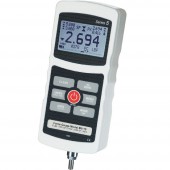 | | |
| --- | --- |
| Load capacity: | 1000 N (100 kg / 200 lb) |
| Maximum travel: | 330 mm (13") |
| Travel rate: | 1.37 mm (0.05") hand wheel revolution |
| Weight: | 8 kg (17 lbs) |
| Dimensions: | 152 mm x 254 mm x 567 mm |
| Included accessories: | small hook, medium hook, 2" dia. compression plate, and gauge mounting thumbscrews |
| Warranty: | 3 years |
All mentioned prices are excluding VAT & excluding shipment costs.
Availability: Available , preorder 1-2 weeks , special order, request