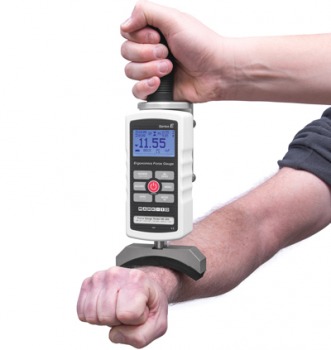 Click on an image for a larger image
Series E - Ergonomic Force Gauge for Compression and Traction

The Series-E compression and traction ergonomic force gauge is designed for quick and easy analysis of ergonomic forces and muscle strength. With preconfigured sets, the Series-E is ideal for analyzing workplaces, strength and ergonomic studies.
This versatile force gauge is perfectly adapted for use by occupational scientists, physicians and physiotherapists. A wide range of attachments for various applications are available and capacity force gauges are available in 500, 2,500 and 5,000 N.
Furthermore, the Series E offers a choice between pre-configured sets, which include a measuring device, accessories and carrying case or you can put together your own kit according to your needs. Also special attachments such as the Myometer conversion kit are available to make it adaptable to any kind of test situation.
Due to the incorporated innovative Click-Lock ™ technology, all accessories can be fastened with a simple movement and easily be changed. The attachment of the handles can be adjusted in 90 ° or 180 ° orientation and an adapter for attaching conventional attachments with threaded attachment is also available.
Data memory for 5000 measured values - measured values can be stored manually or continuously with up to 7000 Hz
Measures compressive and tensile force peak values
Statistical functions for stored measured values
Versatile and configurable ergonomic force gauge
MESUR ™ Lite data processing software
Three available measuring ranges: 500, 100 and 2500 Newton
Click-Lock ™ attachment technology for accessories
USB data output
Programmable highs and lows for pass / fail tests
Mode for averaging the forces over a given time
Model
Capacity
Resolution
ME-100
50 kgF
50000 gF
500 N
0.01 kgF
10 gF
0.1N
ME-200

100 kgF
1000 N
1 kN

0.02 kgF
0.2 N
0.0002 kN
ME-500
250 kgF
2500 N
2.5 kN
0.2 kgF
0.5 N
0.0005 kN
| Model | Description |
| --- | --- |
| EKE-100-1 | Basic ergonomic-kit 500 N |
| EKE-200-1 | Basic ergonomic-kit 1000 N |
| EKE-500-1 | Basic ergonomic-kit 2500 N |
| EKE-100-2 | Professional ergonomic-kit 500 N |
| EKE-200-2 | Professional ergonomic-kit 1000 N |
| EKE-500-1 | Professional ergonomic-kit 2500N |
model
description
Basic Kit
Professional Kit
ME-100
ME-200
ME-500
Ergonomical force gauge
E1002
Upholstered top, quadrangular
E1003
Upholstered top, rectangular
E1004
Upholstered top, vaulted
E1005
Padded top, circular
E1006
Rake
E1007
Chain/ Rake attachment
E1008
Single handle
E1009
Double Handle
E1010
Pistol handle
E1011
Accessories adapter¹
E1012
Loop cable¹ and accessoriess
E1013
Myometerkit²
E1000
Carrying case, small
E1001
Carrying case, big
1. Does not fit in the carrying case
2. Does not fit in the carrying case. Requires E1006 rakes.

For more information and details on each picture, please browse through the gallery pictures displayed at the top of the page.
Precision:
± 0.2% of the full exchange rate
Sampling rate:
7000 Hz
Power supply:
AC power adapter or battery-powered. Multi-level battery indicator always informs about the current state of charge
Battery life:
Backlight on: up to 7 hours of continuous use
Backlight off up to 24 hours of continuous use
Measuring units:
lbF, ozF, gF, kgF, N, kN (depending on the model)
USB data output:
Configurable up to 115,200 baud
Secure overload:
200% of the full replacement fee (warning notice)
Calibration:
NIST traceable calibration certificate with test data
Weight:
0,8 kg
Delivery includes:
Carrying Case, Universal AC Adapter, Batteries, USB Cable, Resource CD (USB Driver, MESUR ™ Lite Software, MESUR ™ gauge MESUR ™ gauge Plus 90-Day Trial and Instruction Manual), NIST traceable calibration certificate
Guarantee:
3 years
All mentioned prices are excluding VAT & excluding shipment costs.
Availability: Available , preorder 1-2 weeks , special order, request