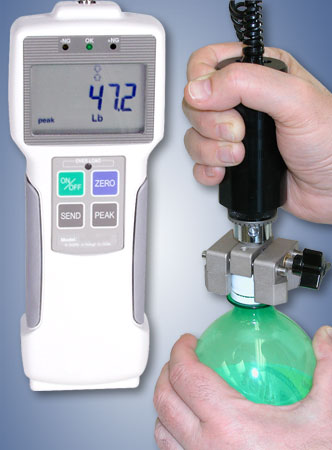 Click on an image for a larger image
CAP-HT-RS Hand-held Cap Torque Tester with Data Output & Memory
The CAP-HT-RS Hand-held Cap Torque Tester with Data Output & Memory is no longer available and has been replaced by CAP-TT03.
Click here to see the CAP-TT03.
The CAP-HT-RS digital cap torque tester offers programmable high/low setpoints for go/no-go testing. ORANGE lights up for measurements less than Low setpoint, GREEN for between High and Low setpoint, and RED for over High setpoint.

Use for cap diameters of 16.5 - 39.0 mm (0.65 - 1.55 in)

Store up to 1,000 values in memory, which can be displayed or transmitted using serial output. Use the real time mode to display torque transients, or the peak mode to capture the peak torque achieved during a test. Selectable measuring units of lbf-in, kgf-cm, or N-cm.

CAP-HT-RS digital cap torque testers are sold in kits which include the gauge, sensor, G1053 Cap Grip , six foot cable, and AC adapter/charger. Built-in NI-MH rechargeable batteries.
User-selected units of Pounds, Kilograms or Newtons
RS-232C, Digimatic and Analog outputs
1000 Data memory for computer download
Runs on internal NiCad batteries or AC adapter
Display "real-time" or "peak" force
Tare function
Both clockwise and counterclockwise operation
For cap diameters of 0.65 - 1.55 in (16.5 - 39.0 mm)
Overload capacity 200% of F.S.
Ergonomic design with non-slip rubber grip, heavy duty metal construction
Overload alarm and output signal
Includes NIST-Traceable Calibration Certificate
ISO/IEC 17025 Long-form Certificate & Test Data is optionally available
2 Year Warranty
Model
Capacity
Resolution
CAP-HT-4-RS
70.00 ozf-in
5.000 kg-cm
50.00 N-cm
0.01 oz-in
0.001 Kg-cm
0.01 N-cm
CAP-HT-15-RS
15.00 lbf-in
20.00 Kg-cm
200.0 N-cm
0.01 lb-in
0.01 Kg-cm
0.1 N-cm
CAP-HT-40-RS
40.00 lbf-in
50.00 Kg-cm
500.0 N-cm
0.01 lb-in
0.01 Kg-cm
0.1 N-cm
CAP-HT-85-RS
85.00 lbf-in
100.0 Kg-cm
1000 N-cm
0.1 lb-in
0.1 Kg-cm
1 N-cm
SW-1 Data Acquisition Software for Force Gauges & Torque Gauges
Full SPC and graphing capabilities
Automates your data collection
Provides a running log of all measurements along with a chart of the data as well as statistical information
More details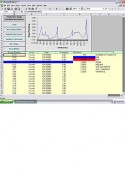 Cic-Torque Torque Instrument Calibration
Short turnaround
Easy planning of calibration
More details