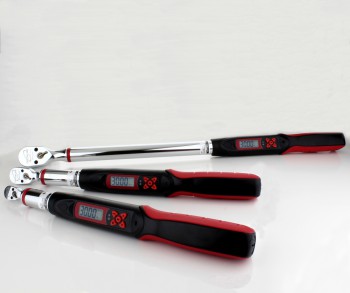 Click on an image for a larger image
DTW Electronic Torque Wrench
The Check-Line DTW Electronic Torque Wrenches are designed for simple and precise measurement of industrial, automotive, aerospace and many other applications. The DTW displays Real-Time and Peak torque on a large LCD display in ft-lb, in-lb or N-m, user selectable.
The DTW features High-Lo set points that indicate a desired torque value with a bright LED and audible beep.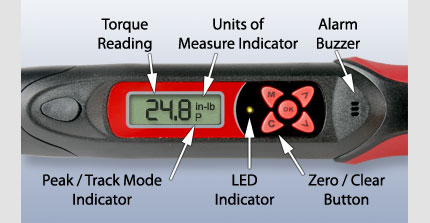 Displays in-lbs, ft-lbs & N-m (User selectable)
CW and CCW operation
Peak or Real-Time (track) mode (User Selectable)
Buzzer and LED indicator for the pre-settable target torque
50 data point memory
Auto shutdown after 5 minutes of non use
Includes Calibration Certificate
CE Certified
Torque ranges
Model
Range
Drive Size
DTW-265i
3 - 30 N-m
1/4"
DTW-1200i
13.5 - 145 N-m
3/8"
DTW-100f
13.5 - 145 N-m
1/2"
DTW-250f
34 - 340 N-m
1/2"
DTW-625f
85 - 850 N-m
3/4"
Accuracy
CW - ±2.5%
CCW - ±3.5%
Resolution
0.01 N-m / 0.1 in-lb / 0.01 ft-lb
Sampling Frequency
500 Hz (500 samples/sec)
Display Update Rate
4 Hz (4 times/sec)
Operation Mode
Peak hold/ Track
Unit Selection
ft-lb, in-lb, N-m
Length
DTW-265i - 390 mm
DTW-1200i - 415 mm
DTW-100f - 445 mm
DTW-250f - 650 mm
DTW-625f - 1200 mm
Head Type
Lever type Ratchet
Battery Life
110 Continuous Hours
1 Year Standby
Operating Temperature
-10°C ~ 60°C
Storage Temperature
-20°C ~ 70°C
Humidity
Up to 90% non-condensing
Product name
Price
Quantity
All mentioned prices are excluding VAT & excluding shipment costs.
Availability: Available , preorder 1-2 weeks , special order, request