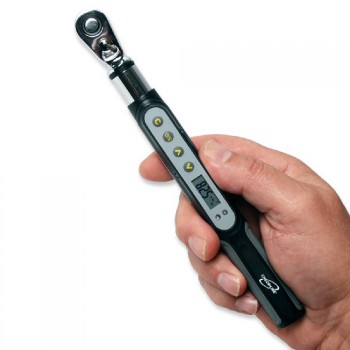 Click on an image for a larger image
DTL Digital Torque Wrench with torque target adjust
Capacity:
DTL-50i: 1,2 - 6,00 N-m
DTL-100i: 2,4 - 12,00 N-m
DTL-175i: 4,0 - 20,00 N-m
Drive Size: 1/4 Inch

The new Check-Line DTL Digital Torque Wrench is designed for simple and precise torque measurement for industrial, automotive amd aerospace as well as many other applictions. It measures both: application and remove torque. The measurement values are displayed on a large LCD display in real-time or peak mode in Lb-in, N-m, ft-lb or Kg-cm units (user selectable).
The DTL- features a programmable target set point that beeps when the desired torque value is reached and a red and green LEDs start blinking.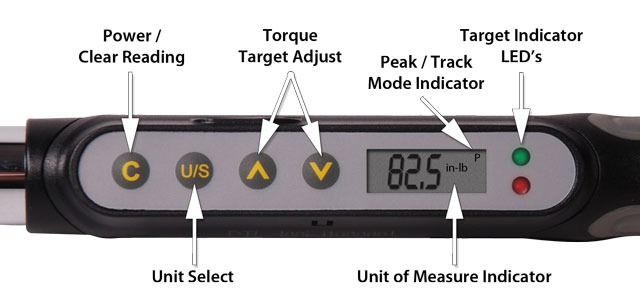 Displays in-lb, N-m, Kg-cm and ft-lb units (User selectable)
CW and CCW operation
Peak or Real-Time (track) mode (User Selectable)
Programmable Target Set-point with audible and visual indicators.
Includes Calibration Certificate
CE Certified
Model
Capacity
Resolution
DTL-50i
10.62 - 53.1 Lb-in
0.01 Lb-in
1.2 - 6.00 N-m
0.001 N-m
0.88 - 4.4 Lb-ft
0.001 Lb-ft
12.2 - 61 Kg-cm
0.01 Kg-cm
DTL-100i
21.24 - 106.2 Lb-in
0.1 Lb-in
2.4 - 12.00 N-m
0.01 N-m
1.77 - 8.85 Lb-ft
0.01 Lb-ft
24.48 - 122.4 Kg-cm
0.1 Kg-cm
DTL-175i
35.4 - 177.0 Lb-in
0.1 Lb-in
4 - 20.00 Nm
0.01 Lb-ft
2.95 - 14.75 Lb-ft
0.01 Nm
40.82 - 204.1 Kg-cm
0.1 Kg-cm
Accuracy: CW ±2% / CCW ±3% of indicated from 20 - 100% of capacity
The DTL is supplied as a complete kit:
including the wrench
1 AAA battery
instruction manual
calibration certificate
plastic carrying case
Accuracy
CW ±3% / CCW ±4% (20 - 100% of capacity)
Memory
50 Readings for recall on display, no output capability
Operation Mode
Peak hold/ Track
Unit Selection
ft-lb, in-lb, N-m, Kg-cm
Length
8 inches / 20 mm
Head Type
Lever type Ratchet
Battery
1 AAA
Battery Life
12 Continuous Hours
1 Year Standby
Operating Temperature
-10°C ~ 60°C
Storage Temperature
-20°C ~ 70°C
Humidity
Up to 90% non-condensing
Warranty
1 Year
All mentioned prices are excluding VAT & excluding shipment costs.
Availability: Available , preorder 1-2 weeks , special order, request