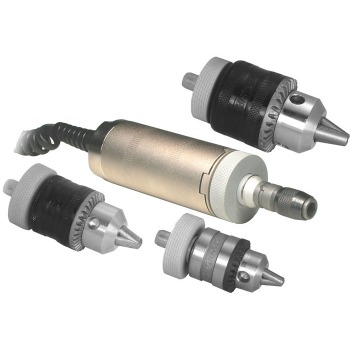 Click on an image for a larger image
R51 Series Universal Torque Sensors for bi-directional torque testing

The R51 Series Universal Torque Sensors is designed for general bi-directional torque testing applications requiring different sample sizes. It can be used as a hand held device or mounted to a torque bench.
Three interchangeable chuck capacities and bit holder are available (to be ordered separately).
The R51 Series has an outstanding overload protection and is available in capacities from 7 Ncm to 1150 Ncm and is compatible with torque gauge models Series 7i, 5i and 3i (sold separately) through unique Plug & Test technology: sensors can easily be changed.
Compatible with the Series 7i, 5i and 3i digital indicators
Unique Plug & TestTM connector holds all calibration and configuration data
Outstanding overload protection
Interchangeable chucks (order separately)
NIST-traceable certificate of calibration included
Capacities from 7 to 1150 Ncm
3 years warranty
Model
Capacity with Model 7i / 5i
Resolution with Model 7i / 5i
Capacity with Model 3i
Resolution with Model 3i
MR51-10Z
10 ozFin
700 gFcm
7 kgFmm
70 Nmm
7 Ncm
0.005
0.5
0.005
0.05
0.005
10 ozFin
7 kgFmm
7 Ncm
0.01
0.005
0.005
MR51-20Z
20 ozFin
1400gFcm
14kgFmm
140Nmm
14Ncm
0.01
1
0.01
0.1
0.01
20 ozFin
14 kgFmm
14 Ncm
0.02
0.01
0.01
MR51-50Z
50 ozFin
3600gFcm
36kgFmm
350Nmm
35Ncm
0.02
2
0.02
0.2
0.02
50 ozFin
36 kgFmm
35 Ncm
0.05
0.05
0.05
MR51-12
12lbFin
1lbFft
140kgFmm
135Ncm
1.35Nm
0.005
0.0005
0.1
0.1
0.001
12 lbFin
140 kgFmm
135 Ncm
0.01
0.1
0.1
MR51-50
50lbFin
4lbFft
580kgFmm
570Ncm
5.7Nm
0.02
0.002
0.5
0.5
0.005
50 lbFin
580 kgFmm
570 Ncm
0.05
0.5
0.5
MR51-100
100lbFin
8lbFft
1150kgFmm
1150Ncm
0.05
0.005
0.5
0.5
100 lbFin
1150 kgFmm
1150 Ncm
0.1
1

1
| | |
| --- | --- |
| Accuracy: | ± 0.20% of full scale + indicator |
| Weight: | From 0.6 kg |
| Warranty: | 3 years |
All mentioned prices are excluding VAT & excluding shipment costs.
Availability: Available , preorder 1-2 weeks , special order, request