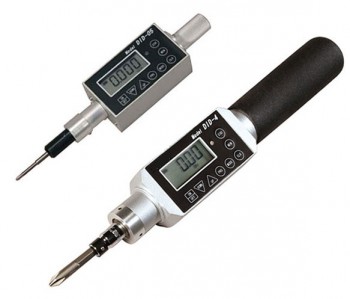 Click on an image for a larger image
DID-4 Digital Torque Screwdriver
DID-Series Digital Torque Screwdriver / Torque Tester
Model – DID-05 Digital Torque Screwdriver: 0.20~50.00 N-cm
Model – DID-4A Digital Torque Screwdriver: 2.0~400.0 N-cm
The DID-Series torque screwdriver features an integral/adjustable LCD display for convenient torque readings. The unit is designed for screw tightening torque verification and measures in Peak, Real Time, and Peak Down measuring modes (selectable).
This torque screwdriver has an accuracy of ± 0.5% F.S., ±1 LSD and has programmable setpoints that provide both an audible beep and green/red LED indicator for uniform tightening or GO/NO GO testing. In addition, it features a programmable counter that minimizes assembly errors by identifying mis-tightening and/or defective screws. Use the 800 internal memory for peak data recall or USB download for SPC.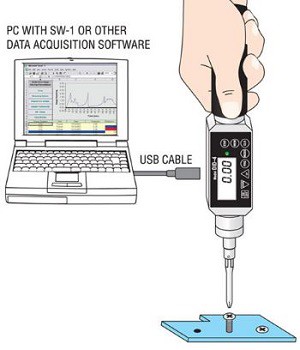 The DID-Series torque screwdriver substantially reduces scrap and rework costs by eliminating over and under-tightening and is ideal for use in a wide variety of applications including the manufacture of electronic, appliance and aerospace assemblies.



Ergonomic and light weight, yet ruggedly constructed
Peak, Real Time and Peak Down measuring mode (selectable)
Programmable High and Low setpoints with both audible beep and Green/Red LED indicator for uniform torque tightening or GO/NO GO testing
Programmable screw tightening counter
Both CW and CCW ratchett and fixed operation
Statistics: number of data, Max, Min, Avg
Selectable units ozf-in, lbf-in, kgf-cm, N-cm and N-m
800 data memory for recall or for SPC download
Programmable Auto Zero function resets unit to zero for easy operation
Runs on internal NiCad batteries (for 8 hours) Auto shut-off after 10 min. of non-use
USB data output for SPC capability
1/4" Phillips tips, AC charger and carrying case included
2-Year Warranty
Torque ranges
Model
Range
DID-05
50,00 N-cm / 0,01
DID-4
400,0 N-cm / 0,1
The DID-05 comes with:
4mm stepless CW one-way clutch
1x 4mm locking half round Phillips tip
1x full round Phillips tip
AC charger
Carrying case
Manual
Calibration Certificate
The DID-4A comes with:
1/4″ female hex adapter
2x 1/4″ Phillips tips ( DID-4A accepts any standard 1/4″ hex bits)
AC charger
Carrying case
Manual
Calibration Certificate
Capacity
DID-4A Digital Torque Screwdriver: 2.0~400.0 N-cm
DID-5 Digital Torque Screwdriver: 0.20~50.00 N-cm
Accuracy
+/- 0.5% F.S., +/- 1 LSD
Display
4 digit LCD
Operation
CW, CCW and fixed position
Measuring Modes
PP
Peak Mode displays PEAK torque value that will not change until a higher value is measured
PD
Peak Down Mode Captures first peak down value above the PDLO
Real Time
Displays transient torque values
C
Real-time Output 180 data per second
GO/NO GO testing
Programmable High and Low setpoints with both audible beep and Green/Red LED indicator
Statistics
Number of data, maximum, minimum and average
Data Transfer
ASCII, 19200 bps, USB miniB cable
Data Memory
800 data
Batch Counter
1-99 (CW only)
Power Supply
Ni-Cad rechargeable batteries 1.2V×4cells 600mAh
Auto Power Save
Automatic switch off after 10 minutes of non-use
Charging Time
From empty - less than 5hours
Working Time
12 hours continuous use
Bit Size
6.35 mm
Weight
430g
SW-1 Data Acquisition Software for Force Gauges & Torque Gauges
Full SPC and graphing capabilities
Automates your data collection
Provides a running log of all measurements along with a chart of the data as well as statistical information
More details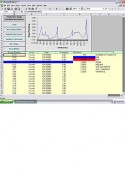 DIS-RL Digital Torque Screw Driver
Peak, Real Time and Peak Down measuring mode (selectable)
More details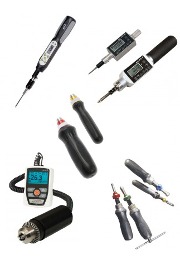 All mentioned prices are excluding VAT & excluding shipment costs.
Availability: Available , preorder 1-2 weeks , special order, request