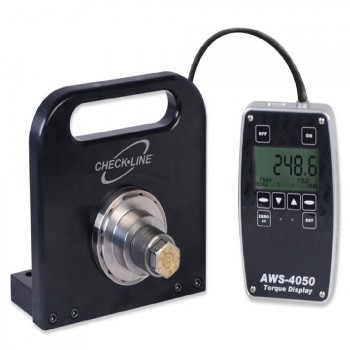 Click on an image for a larger image
TT-IMP Impact Wrench Torque Tester

The Checkline Europe TT-IMP Impact Torque Wrench Test System has been especially designed with a heavy-duty construction for the demanding purpose of testing impact tools. The torque measuring transducer is fixed in a sturdy frame which has been designed for secure bench top mounting. A digital display is connected remotely to isolate the electronics from the potentially damaging vibrations caused by impact tools. A custom designed run-down-fixture is supplied to simulate real-world application conditions, allowing the impact tool motor to ramp-up to freely rotate several times before building resistance to rotation.

The included digital indicator can display torque in KG-m, N-m, lb-in or lb-ft (selectable) units with an accuracy of +/- 1% (bi-directional with optional reverse threaded run-down-fixture).

The TT-IMP Series of torque testers have been designed for demanding precision testing of pneumatic impact tools and geared wrenches. The TT-IMP Series is characterized by the heavy duty construction which makes it applicable in nearly all industrial areas . Due to the integrated reaction arm, capacities up to 3400 Nm can be tested.

Commonly used for testing Ingersoll Rand, DeWalt, Milwaukee, Westward and many others.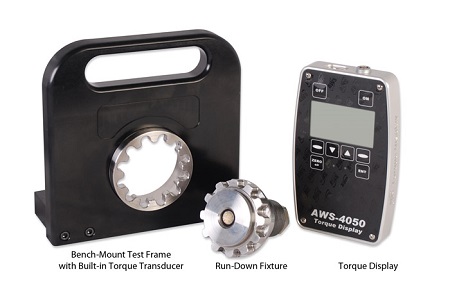 Heavy Duty Construction
Solid machined aluminium plate for weight reduction and long term durability
Spline engagement of run-down into torque transducers improves durability of transducer
Test stand is designed with feet to accomodate bolting test stand to bench
Capacity of up to 3400 Nm
Complete test system ready for use
| | | | | |
| --- | --- | --- | --- | --- |
| Model | Calibrated Measuring Range | | | |
| TT-410250F-IMP | 34 - 340 Nm/25 - 250 lb-ft | | | |
| TT-410500F-IMP | 68 - 680 Nm/50 - 500 lb-ft | | | |
| TT-4101000F-IMP | 135 - 1355 Nm/100 - 1000 lb-ft | | | |
| TT-4102000F-IMP | 270 - 2700 Nm/200 - 2000 lb-ft | | | |
| TT-4102500F-IMP | 340 - 3400 Nm/250 - 2500 lb-ft | | | |
| TT-4105000F-IMP | 680 - 6800 Nm/500 - 5000 lb-ft | | | |
| Custom ranges available, inquire for details | | | | |
| | |
| --- | --- |
| Calibrated Range | 10-100% Full Scale, bi-directional (with optionale reverse threaded run-down-fixture) |
| Accuracy | ± 1.0% of indicated (within calibrated range) |
| Calibration Certificate | Includes NIST Traceable calibration certificate with data |
| Operating Temp | 0-50 °C (32 - 120 F) |
| Power | Rechargable NiMH batteries provide 10-12 hours of continuous use |
| Dimensions | 20.3 cm x 25.4 cm x 10.2 cm (8 x 10 x 4 inches) |
| Weight | 4.5 - 9 Kg , 10 - 20 lbs depending on range |
| Warranty | 1 year |
| | Specifications below for display |
| Operating Modes | Track, Peak, 1st Peak |
| Resolution | 4 Active Digits |
| Filtering | Selectable; 125Hz, 250Hz, 500Hz, 1000Hz, 1500Hz and 2000Hz |
| Memory | Data storage of up to 999 readings |
| Data Output | RS-232 |
| Display | 62 x 62 mm backlit LCD |
| Alarm Limits | Panel Mounted LED for Visual Alarm Limits |
| Run Down Fixture: | 1-1/8" hex |
TT-410250F-IMP - Impact Torque Test System - 34-340 Nm range, includes display and run-down-fixture
TT-410500F-IMP - Impact Torque Test System - 68-680 Nm range, includes display and run-down-fixture
TT-4101000F-IMP - Impact Torque Test System - 135-1350 Nm range, includes display and run-down-fixture
TT-4102000F-IMP - Impact Torque Test System - 270-2700 Nm range, includes display and run-down-fixture
TT-4102500F-IMP - Impact Torque Test System - 340-3400 Nm range, includes display and run-down-fixture
TT-IMP-LEFT - Option for a left hand threaded run-down-fixture instead of standard run-down-fixture
All mentioned prices are excluding VAT & excluding shipment costs.
Availability: Available , preorder 1-2 weeks , special order, request