CT6 Optical/ Contact Hand Tachometers with LED display
The CT6 series of hand held tachometers are available 2 versions.
CT6 - Standard Optical System:
Optical Range (50 – 1000mm)
Optical Angle (+/- 45 degree)
CT6/LSR - Laser Optical System:
Optical Range (50 – 2000mm)
Optical Angle (+/- 80 degree)
Both versions have facilities for both optical and contact measurements.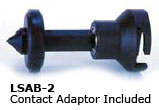 Measurement Ranges:
- RPM
- Linear speed Metres per minute
- Linear speed Feet per minute
- Count mode – length and revolutionss
- Time interval (Reciprical speed)
- Time accumulative (Average rate)

CT6/LSR/ERP is supplied with the LN1 short speed adaptor and has the facility for the end user to be able to adjust the optical sensitivity. This is useful when measuring high speeds using the LN1 short range adaptor where the target may be a mark rather than retro-reflective tape.
Long Optical Range
Range of contact adapters for rpm & linear rate
External input for remote optical sensors is standard
Very wide speed range
Last reading hold & recall memory
Includes Certificate of calibration
Additional Count & Times modes
Wide range of accessories
Measuring Range
3 to 99.999 rpm
Resolution
max - 0,001 (auto)
Optical Range
CT6: 2 - 36" (.05 - 1m)
CT6/LSR: 2 - 72" (.05 - 2m)
Count Mode
0 - 99999 revolutions
Resolution
0.1 metre or 1rpm
Time accumulative
0,01 - 99999 seconds
Time Interval
0,01 - 99999 (seconds / revolutions)
Accuracy
0,02% of reading +/- 1 digit
On Target Indicator
Yes
Low battery Indicator
Yes
Power
4 AAA Batteries (included)
Contact Measurement mode With LSAB-2 Adaptor attached
RPM
3 - 50.000 rpm
Meters / Min
0,30 - 1999,9
Feet/Min
0,30 - 4500,0
Length
0-999,9 meters (resolution 0,1 meters)
Totale Resolutions
0-9999 resolutions
LSAB-2 Contact Adaptor LSAB-2 for CT-range Tachometers
Contact adaptor for CT6 models tachometer
Suitable for the Mayer & Wonisch CT7 Tachometer
Operation range of 3 to 50.000 rpm
0.3 to 1.999,9 metres per minute
Supplied with:
RPM cone and metric surface speed disc
More details