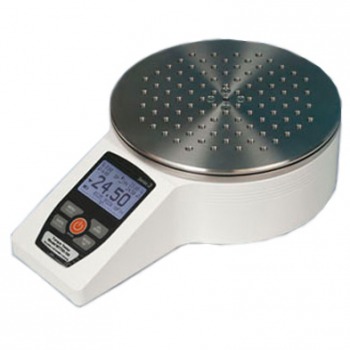 Click on an image for a larger image
CAP-TT05 Universal Torque Tester
4 Ranges up to 11.5 Nm

These universal torque testers can be used for a range of applications up to 11.5 Nm. The stainless steel loading surface features a matrix of threaded holes, ideal for accommodating specialized fixtures and attachments. The tester's robust and stable design and simple, intuitive operation make it deployable in production as well as laboratory environments.

Accuracy of ±0.3% and an impressively fast sampling rate of 7,000 Hz ensure consistent and reliable test results, even in quick-action applications. Password protection is also provided to prevent unauthorized changes to settings and calibration.

The TT05 includes a range of sophisticated productivity-enhancing features, including RS-232, USB, Mitutoyo, and analog outputs, automatic data output and zeroing upon sample break, memory storage for 1,000 readings, pass/fail indicators and outputs, and more. First / second peak torque detection is useful for torque tool testing, tamper evident closure testing, and other applications.

Series TT05 testers include MESURTM Lite data acquisition software. MESURTM Lite tabulates continuous or single point data.

Data stored in the TT05's memory can also be downloaded in bulk. One-click export to Excel allows for further data manipulation.

Threaded holes are not drilled through the plate, for protection from debris and liquid
RS-232, USB, Mitutoyo, and analog outputs
First / second peak detection for torque tool testing, bottle cap testing, and other applications
High-speed 7,000 Hz sampling rate accurately captures peak torque values
Stainless steel loading plate with #10-32 threaded holes accommodates fixtures and attachments
Automatic output, data storage, and zeroing upon sample break helps automate testing processes
1.000-point data memory with statistics and outputs
Configurable audio alarms and key tones
MESURTM Lite data collection software included
5 selectable units of measurement
Break detection
±0.3% accuracy
Accuracy
±0.3% of full scale
Container Diameter:
12.7-190 mm
Power
AC or rechargeable battery. Multi-step low battery indicator is displayed, tester shuts off automatically when power is too low.
Battery Life
Backlight on: up to 7 hours of continuous use.
Backlight off: up to 24 hours of continuous use
Measurement Units
ozFin, lbFin, lbFft, Nm, Ncm
Outputs
USB / RS-232: Configurable up to 115,200 baud.
Mitutoyo: Serial BCD suitable for all Mitutoyo SPC-compatible devices.
Analog: ±1 VCD, ±0.25% of full scale at capacity.
General purpose: Three open drain outputs, one input.
Set points: Three open drain lines.
Safe Overload
150% of full scale (display shows "OVER" at 110% and above)
Included Items
Universal voltage AC adapter, battery, quick-start guide, USB cable, resource CD (USB driver, MESURTM Lite software, MESURTMgauge DEMO software, and user's guide), and NIST-traceable certificate of calibration (data is available for an additional charge).
Model
CAP-TT05-12
192
0.1
12
0.005
1
0.0005
135
0.1
1.35
0.001
CAP-TT05-25
400
0.2
25
0.01
2
0.001
290
0.2
2.9
0.002
CAP-TT05-50
800
0.5
50
0.02
4
0.002
570
0.5
5.7
0.005
CAP-TT05-100
1600
1.0
100
0.05
8
0.005
1150
0.5
11.5
0.005
Product name
Price
Quantity
Product name
Price
Quantity
All mentioned prices are excluding VAT & excluding shipment costs.
Availability: Available , preorder 1-2 weeks , special order, request