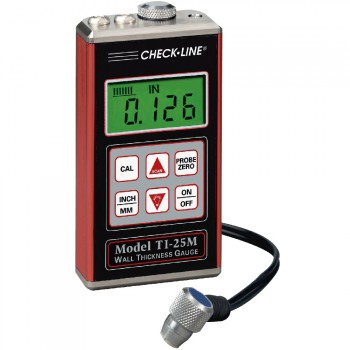 Click on an image for a larger image
TI-25M Ultrasonic Wall Thickness Gauge
The TI-25M Ultrasonic Wall Thickness Gauge is no longer available and has been replaced by TI-25MX.
Click here to see the TI-25MX.


TI-25M configurable ultrasonic wall thickness gauge is made in the USA and comes in 4 different versions:
TI-25M: Standard model
TI-25M-H: model for surfaces with a temperature of 343 ° Celsius
TI-25M-107: Model for iron / plastic
TI-25M-HW: model for thick walls (from 1.27 - 508 mm)
The TI-25M ultrasonic wall thickness gauge measures wall thicknesses from 0.6 to 150 mm with high accuracy and detects the corrosion progress of metals, ceramics, glass and most hard plastics. Wall thickness measurements can be made from just one side.
The TI-25M wall thickness gauge can be used in different modes, either in the simple thickness gauge mode or in the so-called scan mode. In scan mode, the probe must be passed over a large measuring surface. The measured minimum wall thickness value is displayed during the process.
Furthermore, the TI-25M ultrasonic wall thickness gauge has a waterproof probe and a shock-resistant aluminium housing with environmental sealing, making the TI-25M even suitable for harsh industrial environments.
CE Certified
Simple operator controls
Resolution of 0.001 inch (0,01 mm)
Large, backlit LCD display retains last reading
Special-purpose probes are offered for a variety of applications
Switch-selected units for inches or mm
For underwater surveying, probe cable lengths up to 50 feet are optionally
Includes NIST Calibration Certificate
Simple operator controls virtually eliminate training

The TI-25M is supplied as a complete kit with:
the gauge
T-102-3300 probe
120 ml. bottle of coupling fluid
2 AA batteries
NIST Calibration Certificate
Operating Instruction Manual
all in a foam-fitted carrying case.
Minimum Radius for Convex Surfaces
8.89 mm
Minimum Radius for Concave Surfaces
76.2 mm
Minimum Headroom
25.4 mm
Minimum Sample Diameter
3.8 mm
Minimum Substrate Thickness - F
NA
Minimum Substrate Thickness - NFe
NA
Range in Steel
0.60-150.0 mm (0.025-6.00")
Resolution
0.01 mm (.001")
Display
4½ - Digit, 0.5" Backlit LCD
Velocity Range
2000-10,000 m/sec. (6,500-33,000 ft./sec)
Probe
7.5 MHz, 6.35 mm Diameter (0.25")
Cable
1.2 m (4 ft.) waterproof cable with non-polarized, quick-disconnect connectors. Optional lengths up to 15 m (50 ft.)
Temp. Limits
Ambient: -30 to 50° C (-20 to 120° F)
Material: -0 to 200° F (-20 to 100° C)
Special high temperature probes are optionally available.
Battery Type
Two AA batteries
Battery Life
200 hours
Weight
196 g (7 ounces)
Size
64 x 114 x 32 mm
(2.5 x 4.5 x 1.25")
Warranty
Gauge: 5 Years
Probes: 90 Days
Accessories Included
Probe/cable assembly. 4 oz. bottle of coupling fluid, NIST Calibration Certificate, 2 AA batteries, operating instructions, hard-plastic carrying case.
| Model | Description |
| --- | --- |
| TI-25M-H | High Temperature for surfaces up to 650° F or 343° Celsius |
| TI-25M-107 | Cast Iron / Plastics |
| TI-25M-HW | Heavy Wall (1.27-508mm) |