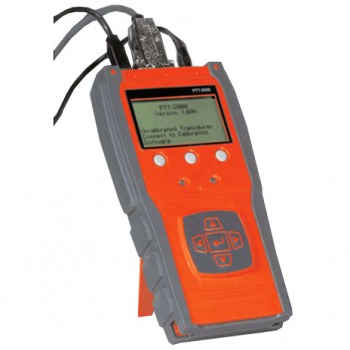 Click on an image for a larger image
PTT Torque Analyzer - the new generation of hand-held torque analyzer
The new PTT torque analyzer features the "EZ-Plug & Play" with instant auto-recognition and allows for graphical documentation through a navigator friendly graphical menu.
The PTT represents a new generation of torque analyzers, which are ideal for advanced torque controlling and monitoring.
Furthermore this state of the art torque analyzer enables operators and engineers to ensure product quality, safety and reliability in a variety of manufacturing environments.


System Accuracy +/- 0.5% of reading from 20% to 100% of full scale
Operates with Torque & Force sensors.
Provides "EZ-Plug & Play" with Transducers. Features "ARCII" technology, an instant auto-recognition system of the transducer connected to the PTT.
Selection of six operating modes: Track, Peak, First Peak, Audit, Torque + Angle, and Tool Test.
Two units of force measurements: Ibf and kN
Real time graph of torque vs. time using associated PC Windows software.
Seven units of torque measurements: (ozf.in, lbf.in, lbf.ft, cN.m, N.m, kgf.m, kgf.cm).
USB interface to download readings to PC.
Recommended for all hand screwdrivers, wrenches or power tools.
BMX Torque Reaction Sensor
Accuracy ± .25% of full scale (± 0.5% for 10,000F & 20,000F models)
More details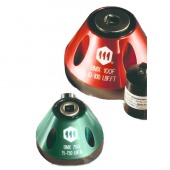 BLRTSX Brushless Rotary Torque Transducer
Accuracy +/-.25% of full scale.
The common "brush bounce" that plagues the accuracy testing of pulse tools is cured when using a brushless rotary transducer.
More details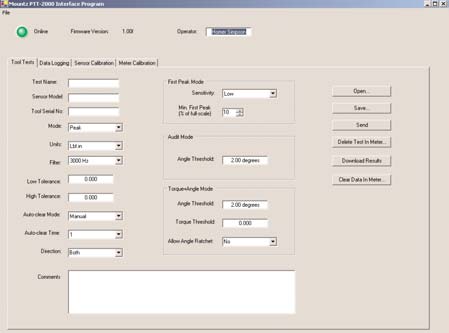 The PTT allows you to set up and create tool tests and save the readings so you can export the data to a PC for documentation. It's the ideal solution for organizing and storing test data for ISO and SPC documentation.
The ability to graph a dynamic rundown allows joint analysis. Great resource to evaluate create or confirm a torque specification or toll being used in production.
The "Statics Calculator" allows operators to perform basic SPC, CP and CPK calculations.
Universal Charger (100 - 240 VAC)
USB Cable
Software - Torque Meter Interface Program
Software - Torque Meter Bootloader
Software - Statics Calculator
Protective Cover