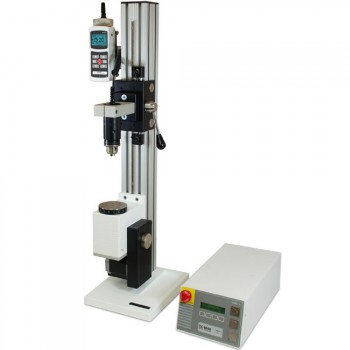 Click on an image for a larger image
TSTM Motorized Vertical Torque Test Stand

The vertical TSTM Motorized Torque Measurement Test Stand is perfect for a wide variety of torque testing applications up to 11.5 Nm, including closure torque testing, fastener torque testing, and more. (22 Nm capacity upgrade is available as an option)

Stepper motor design eliminates speed variation with load, highly precise and repeatable tests are enabled by motorized clockwise and counterclockwise rotation. Versatile modular design allows the stand to be configured for a variety of torque sensors and gripping fixtures while a lever-operated slider with travel stops makes engaging and disengaging samples quick and efficient.

The vertical stand includes a torque loading plate with tapped holes for grip and custom fixture mounting and a resetable angle indicator.

The TSTM is a test stand only. In order to meausure torque, a torque sensor, display and appropriate test fixtures are needed.
Maximum load: 100 lbin (11.3 Nm)
Speed range: 0.3-8.6 RPM (4-52°/s)
Speed accuracy: ±5% of setting
No speed variation with load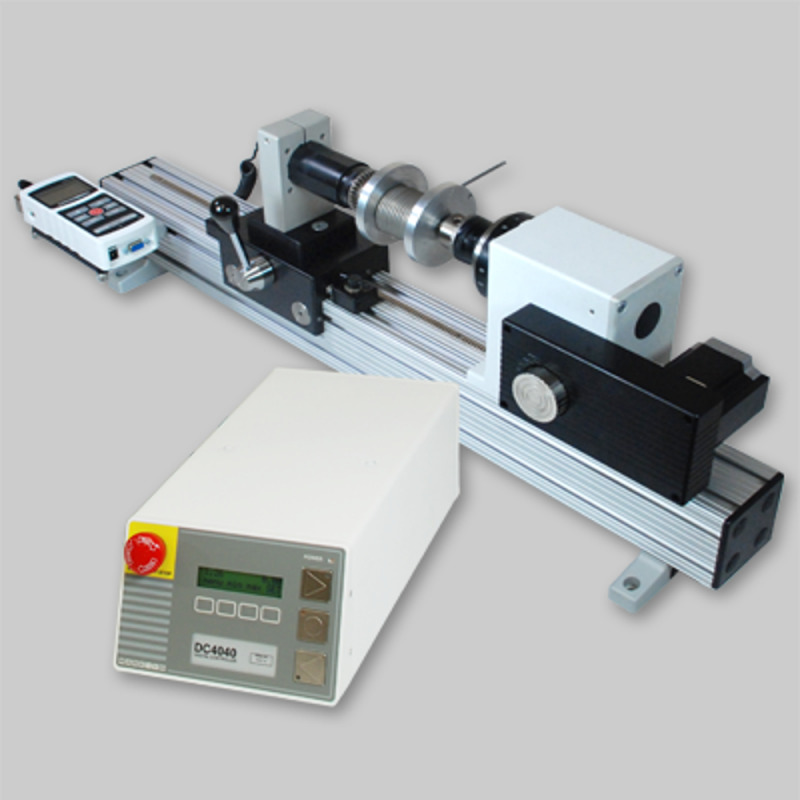 Series-TT03 Digital Torque Meter
Peak memory for clockwise and counter clockwise readings saved and displayed
High-speed 2,000 Hz sampling rate
More details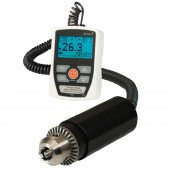 Series 3I Advanced Force/Torque Indicator
Interchangeable force and torque sensors through Plug & Test™technology
High-speed 2,000 Hz sampling rate
More details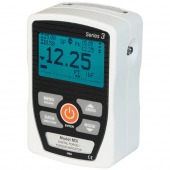 Series 5I Series 5I Advanced Digital Force/Torque Indicator
Interchangeable force and torque sensors through Plug & Test technology
High-speed 7,000 Hz sampling rate
More details
| | |
| --- | --- |
| Maximum load: | 11.3 Nm (100 lbin) |
| Speed range: | 0.3-8.6 RPM (4-52°/s) |
| Speed variation with load: | +/- 0% (stepper motor) |
| Maximum angular travel: | no limit |
| Throat: | 104 mm (4.10") |
| Manual adjustment: | 12°/knob revolution |
| Maximum slider travel: | 394 mm (15.5") |
| Slider travel rate: | 26.6 mm (1.047") / lever revolution |
| Line voltage: | 80-240 VAC 50/60 Hz |