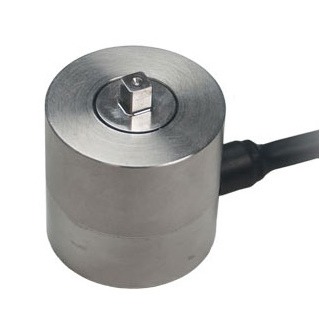 Click on an image for a larger image
R55 Series robust Square Drive Torque Sensor

This robust R55 Series square drive sensor is robust and thus ideal for a wide range of torque testing applications in different industries. The measurement ranges available go up to 550 Nm.
Square drives on both ends permit inline use with a torque wrench, or for use in OEM and other applications.
This Square Drive Torque Sensor is adapted for use with Series 7i, 5i and 3i torque indicators.
Compatible with the 7i, 5i and 3i digital indicators
NIST-traceable certificate of calibration included
Square drives on each end
Stainless steel and aluminum construction
Unique Plug & TestTM connector holds all calibration and configuration data
Rugged cylindrical design
Model
Capacity with Model 7i / 5i
Resolution with Model 7i / 5i
Capacity with Model 3i
Resolution with Model 3i
MR55-20
20IbFin
1.5IbFft
220NcM
0.02IbFin
0.002IbFft
0.2Ncm

20IbFin
230kgFmm
220Ncm
0.002IbFin
0.2kgFmm
0.2Ncm
MR55-50
50IbFin
4IbFft
570Ncm
0.05IbFin
0.005IbFft
0.5Ncm
50IbFin
580kgFmm
570Ncm
0.05IbFin
0.5kgFmm
0.5Ncm
MR55-100
100IbFin
8IbFft
1150Ncm
0.1IbFin
0,01IbFft
1Ncm
100IbFin
1150kgFmm
1150Ncm
0.1IbFin
1kgFmm
1Ncm
MR55-200
200IbFin
16IbFft
1300kgFmm
2200Ncm

0.2IbFin
0.02IbFft
2kgFmm
2Ncm
200IbFin
2300kgFmm
2200Ncm
0.2IbFin
2kgFmm
2Ncm
MR55-400
400IbFin
32IbFft
4600kgFmm
4500Ncm
0.5IbFin
0.05IbFft
5kgFmm
5Ncm
400IbFin
4600kgFmm
4500Ncm
0.5IbFin
5kgFmm
5Ncm
MR55-1000
1000IbFin
80IbFft
11400kgFmm
11000Ncm
1IbFin
0.1IbFft
10kgFmm
10Ncm
1000IbFin
11500kgFmm
11000Ncm
1IbFin
10kgFmm
10Ncm
MR55-5000
5000IbFin
400IbFft
55kgFmm
55000Ncm
5IbFin
0.5IbFft
0.05kgFmm
50Ncm
5000IbFin
55kgFmm
550Nm
5IbFin
0.05kgFmm
0.5Nm
| | |
| --- | --- |
| Accuracy | ± 0.6% of full scale + indicator |
| Weight | From 0.6 kg to 0.9 kg |
| Warranty | 3 years |
All mentioned prices are excluding VAT & excluding shipment costs.
Availability: Available , preorder 1-2 weeks , special order, request