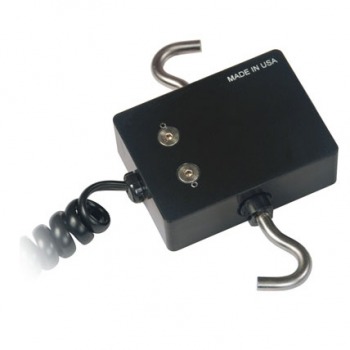 Click on an image for a larger image
R03 Series Smart sensor for tension and compression force

The Series R03 Force measurement sensor for tensile and compressive loads measures a wide variety of applications. Available in capacities from 1 N to 500 N. The threaded holes on two sides can accept a variety of hooks and implements. Therefore, this sensor is particularly well suited for inline tests.

The R03 Series is compatible with force gauge indicators Series 7i, 5i and 3i (sold separately) through unique Plug & Test technology: sensors can easily be changed.

Hooks sold seperately (pn G1038).
Compatible with the Series 7i, 5i and 3i digital indicators
Unique Plug & TestTM connector holds all calibration and configuration data
Smart sensor with rugged aluminum housing
NIST-traceable certificate of calibration included
Measures tensile and compressive forces
Warranty: 3 years
Measures tensile and compression forces from 1 N to 500 N
Inline force sensor
Model
Capacity with model 7i / 5i indicator
Resolution with model 7i / 5i indicator
Capacity with model 3i indicator
Resolution with model 3i indicator
MR03-025
0.25IbF
4ozF
100gF
1N
0.25IbF
4ozF
100gF
1N
0.25IbF
100gF
1N
0.0001IbF
0.05gF
0.0005N
MR03-05
0.5IbF
8ozF
250gF
1N
0.0002IbF
0.005ozF
0.1gF
0.001N
0.5IbF
250gF
2.5N
0.0002IbF
0.1gF
0.001N
MR03-2
2IbF
32ozF
1000gF
1kgF
10N
0.001IbF
0.02ozF
0.5gF
0.0005
0.005N
2IbF
1000gF
1kgF
10N
0,0.001IbF
0.5gF
0.0005kgF
0.005
MR03-5
5IbF
80ozF
1000gF
2.5kgF
25N
0.002IbF
0.05ozF
0.5gF
0.001kgF
0.01N
5IbF
1000gF
2.5kgF
25N
0.002IbF
0.5gF
0.001kgF
0.1N
MR03-10
10IbF
160ozF
5000gF
50N
0.005IbF
0.1ozF
2gF
0.02N
10IbF
5000gF
5kgF
50N
0.005IbF
2gF
0.002kgF
0.02N
MR03-20
20IbF
320ozf
10000gF
100N
0.01IbF
0.2ozF
5gF
0.05
20IbF
10000gF
10kgf
100N
0.01IbF
5gF
0.005kgF
0.05N
MR03-50
50IbF
800ozF
25000gF
250N
0.002IbF
0.5ozF
10gF
0.1N
50IbF
25000gF
25kgF
250N
0,02IbF
10gF
0.01kgF
0.1N
MR03-100
100IbF
1600ozF
50000gF
500N
0.05IbF
1ozF
20gF
0.2N
100IbF
50000gF
50kgF
500N
0.05IbF
20gF
0.02kgF
0.5N
| | |
| --- | --- |
| Accuracy: | ± 0.15% of full scale + indicator |
| Weight: | 0.2 kg |
| Warranty: | 3 years |
All mentioned prices are excluding VAT & excluding shipment costs.
Availability: Available , preorder 1-2 weeks , special order, request