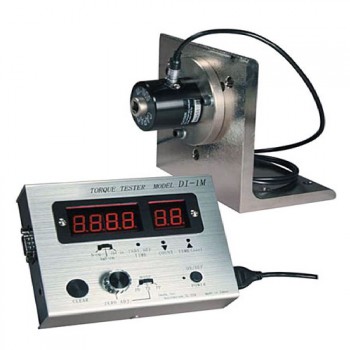 Click on an image for a larger image
DI-1M Digital Torque Tester for Air Tools & Impact Wrenches
DI-1M torque testers are a perfect tool for on-the-spot calibration of impact drivers and air tools. It will calibrate any type of power driver. The fast response units give a digital readout of peak value in either clockwise or counterclockwise direction and also indicate the number of blows for a selected time period from 0.1 to 9.9 seconds. These instruments have an accuracy of ±0.5%, ±1 LSD and lbf-in/lbf-ft, kgf-cm/kgf-m, or N-cm/N-m units are selectable. USB output, auto zero reset, auto shutoff and low battery indicator complete the set of features. It runs on an internal NiCad battery or the included AC adapter.
Selectable modes: Peak, Real Time and Peak Down.
Peak mode captures the peak torque achieved during a test. PEAK reading will not change until a higher value is measured.
Real Time mode displays the real time transient torque value.
Peak down captures the critical first peak value and will not change even if a higher value is subsequently measured.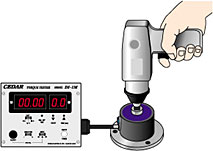 The DI-1M also provides peak data for SPC (statistical process control) via the USB port. Click on the link below for torque tester data acquisition software.
The DI-1M is supplied with the remote sensor, display unit, cable and AC adapter/charger.
Calibrate your own air tools and impact wrenches and save down time.
L-bracket sold separately.

NOTE: The DI-1M Torque Tester is not CE certified

Ergonomic light weight, torque tester with heavy duty metal construction
Peak, Real Time and Peak Down measuring modes (selectable)
Easy to read LED panel displays reference torque value in lbf-ft, kgf-m and N-m (selectable); and number of blows for selected period (0.1 - 9.9 sec)
Accuracy: ±0.5% F.S. ±1 LSD (0-38°C or 32-100°F)
USB output for SPC capability (peak data only)
Runs on internal NiCad batteries (8 hour use)
2 Year Warranty
Includes NIST Calibration Certificate
ISO/IEC 17025 Long-form Certificate & Test Data is optionally available
Model
Ranges
Drive Size
DI-1M-50
3.0 - 440.0 lb-in
3.0 - 500.0 kg-cm
30 - 500 N-cm
3/8" Sq. Dr.
DI-1M-200A
30 - 1800 lb-in
30 - 2000 kg-cm
3.0 - 200.0 N-m
1/2" Sq. Dr.
DI-1M-200
3.0 - 145.0 lb-ft
0.30 - 20.00 kg-m
3.0 - 20 N-m
1/2" Sq. Dr.
DI-1M-500
3.0 - 362.0 lb-ft
0.30 - 50.00 kg-m
3.0 - 50 N-m
3/4" Sq. Dr.
The readings displayed may vary from the actual torque that a tool applies to a thread joint, because testers cannot always duplicate actual joint characteristics. Verify the torque output of the tool being used on the actual assembly, when critical assemblies are involved.
HYDP Hydraulic Torque Wrench Tester System
Heavy Duty Construction
Integrated reaction arm posts or slot as required
4 Digital LCD Display
More details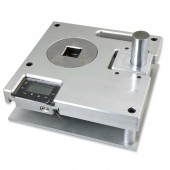 TT-IMP Impact Wrench Torque Tester
Heavy Duty Construction
Solid machined aluminium plate for weight reduction and long term durability
Spline engagement of run-down into torque transducers improves durability of transducer
More details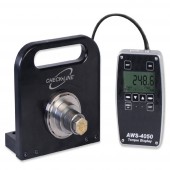 All mentioned prices are excluding VAT & excluding shipment costs.
Availability: Available , preorder 1-2 weeks , special order, request