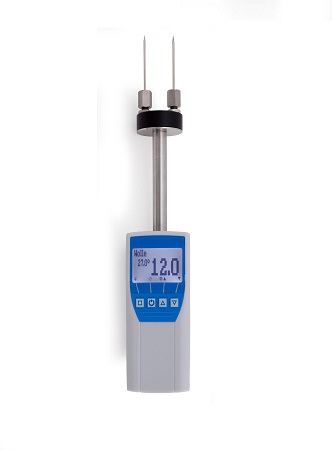 Click on an image for a larger image
SLW Textile Moisture Meter
Measuring range: 0.3% to 26.0% moisture content

The SLW moisture meter is an instrument used to determine humidity in textile, natural and synthetic fabrics and yarns. The moisture content of fabrics and yarns has a direct influence on the tensile strength and elasticity of the material. The SLW moisture meter allows you to determine the water content of fabrics and yarns during the production process within only a few seconds.

Integrated calibration curves for different textile types are included which allows the SLW to directly display the measurement in the "Moisture" menu. This eliminates the need for seperate tables. Besides, this ensures the highest accuracy with minimal effort and it reduces the risk of errors.

There are additional calibration curves available for acetate, acrylic, hemp yarn, jute yarn, cotton, nylon, polyester, viscose, flex and wool.


Wide measuring range of 0.3% to 26% moisture content
For determining humidity in textile, natural and synthetic fabrics and yarns.
Automatically calculates average measurement values
Automatic temperature compensation
Measurement within seconds without prior treatment of samples
Menu languages: German, English, French, Italian, Spanish and Russian
Enables quality control and documentation on location
| | |
| --- | --- |
| Measuring Range | 0.3% to 26% moisture content |
| Resolution | 0.1% |
| Measuring Technique | Electrical Resistance, Click for more information |
| Menu Languages | English, German, French, Italian, Spanish en Russian |
| Housing | Meter: Plastic with IP40 classification |
| Data Recording | 10.000 measurements with date, batch & temperature |
| Display | Grafic LCD display with backlight (128 x 64 pixels) |
| Temperature | Automatically in °C or °F using a built-in temperature probe |
| Operating Temperature | 0 °C to 40 °C |
| Storage Temperature | -20 °C to 60 °C |
| Energy Supply | 4 x 1,5 Volt AA Alkaline Batterien |
| Data transfer (only for SLW-USB) | Via USB-port (supplied with USB cable and software) |
| Dimensions | 740 x 65 x 40 mm |
| Weight | 450 gr. including batteries |
| Warranty | 2 years |
The SLW moisture meter is delivered as a complete kit including:
SLW moisture meter
plastic case
60 -mm electrode
batteries

The SLW-USB moisture meter is delivered as a complete kit including:
SLW moisture meter
plastic case
60 -mm electrode
batteries
USB-port for data-transfer
software & USB cable
Cic-Moisture Moisturemeters Calibration
Easy planning of calibration
Short turnaround
Exclusively in accordance with ASTM 2219-98
Possibility to adjust and repair
More details