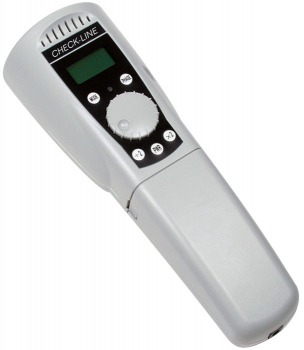 Click on an image for a larger image
DT-900 Digital Pocket Stroboscope
Flash Rate: 30 - 12.500 RPM/FPM
and higher using harmonics

The DT-900 pocket stroboscope is a highly stable instrument for taking non-contact RPM measurements and inspecting moving parts by "freezing" or "slowing down" the action.

The gauge requires only one hand to operate, yet delivers performance comparable to much larger and heavier "pistol-grip" type models.

The DT-900 is ideal for industrial, laboratory, R&D and academic environments. Its small size and excellent performance provide superior convenience and value — at a reasonable price.


Easy to use with just one hand.
"LOW BAT"appears in the display if the energy becomes less.
Resolution of 0,1 Flashes per minute.
The changeable NiMH battery powers the stroboscope 2-2,5 hours.
NIST-Traceable calibration certificate & test report optionally available
"Universal" Battery Charger is supplied on "-UT" and "-UP" versions for use anywhere Worldwide on 100-265 VAC
The DT-900 can be ordered as 2 different kits including the following:

DT-900-UT Stoboscope Kit:
- DT-900 stroboscope
- Battery Pack
- Spare Flash Tube
- Universal Charger
- User Manual
- Foam Fitted Carrying Case

DT-900-UP Stroboscope Kit:
- DT-900 stroboscope
- Battery Pack
- Holster
- Spare Battery Pack
- Spare Flash Tube
- Universal Charger
- User Manual
- Foam Fitted Carrying Case


Flash Range:
30 - 12.500 fpm
Accuracy:
± 0.01%
Resolution:
0.1 fpm
Operation modes:
Flashes with internal trigger
FLashes with external trigger
Tachometer
Display:
8 digits, 15 mm high
Flashtube:
Xenon 10 W / white 6500 K
Flashlength:
10 - 15 µs / approx. 400 lux (at 50cm, 6.000 fpm, D=10cm)
Flash durability:
100 mill. flashes
Phase Shift:
5° per increment (360°)
Input signal:
0.25 - 983.3 Hz
Output signal:
0.667 - 108.333 Hz
Extern trigger:
5 V TTL Signal
Power:
100- 240 V DC changeable battery
Housing:
Polycarbonate
Tripod mounting:
1/4 - 20unc, length 8 mm
Weight:
620 gr (1.4 lbs)
Temperature range:
50 - 95° F (10 - 35° C)
Dimensions:
24,5 cm x 6,5 cm x 8 cm (9,6" x 2,6" x 3,1")
Warranty:
1 year