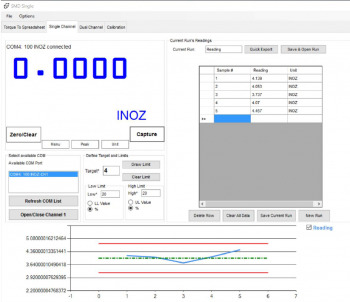 Click on an image for a larger image
TTS-SC Software for data collection & analysis

TTS-SC is an application that allows users to quickly connect to TT-QC, TT-QCM, MTM and AWS-4050 torque testers through a serial or USB Cable. This TTS-SC software facilitates the display, collection, archiving and processing of torque readings.
For data export Torque To Spreadsheet Software - Single Channel (TTS-SC) can launch Excel for further data analysis, reporting and archiving.
The TTS-SC allows the user to define Target, Low Limit, and High Limit. This option populates captured Readings into the graph using the defined Target andLimits.
Exporting to Excel will also place the graph into the spreadsheet.
Platform Requirements:
Windows 7/8/10.
Microsoft Excel is required for Exporting Readings and Graphing Function.
Exporting to Microsoft Excel will also place the graph into the spreadsheet
Allows the user to define Target, Low Limit, and High Limit
Shows Live Reading and Measurement Units of the Tester Connected.
For use with TT-QC, TT-QCM, MTM and AWS-4050
Overlay Mulitple Test Results on a Graph
Includes Mini Plug to USB Cable
Requires at least 1080p Resolution (1920 x 1080)
Compatible with Windows 7, 8 and 10