SJR Miniature Force Sensors - SJR Series
The SJR Miniature Force Sensors - SJR Series is no longer available and has been replaced by R04 Series.
Click here to see the R04 Series.
Extremely compact force measurement sensor for tensile and compressive loads in applications with limited space.

The Series SJR is available in capacities from 0.25 lb to 100 lb (1 N to 500 N). Every capacity has the same miniature dimensions: 0.85" x 0.30" x 0.75" (21.6 mm x 7.6 mm x 19.1 mm).

The sensors feature outstanding mechanical overload protection of up to 1,000% percent of full scale for most applications and threaded holes on two sides for the mounting of attachments or implements.

Requires connection to BGI Remote Sensor Force Gauge, ordered seperately.
Member of the BGI family of interchangeable sensors
Measures tensile and compressive forces
NIST-traceable certificate of calibration included
"Personality module" holds all calibration and configuration data
Mechanical overload protection of up to 1,000% of full scale for all models, 200% for SJR50 and SJR100 when used in tension only
Weight: 0.015 lbs (0.007 kg)
3 years warranty
Model
Ranges
Resolution
SJR-025
0.25 lb
100 gF
1 N
0.0001 lb
0.05 gF
0.0005 N
SJR-05
0.5 lb
250 gF
2.5 N
0.0002 lb
0.1 gF
0.001 N
SJR-2
2 lb
1 kgF
10 N
0.001 lb
0.0005 kgF
0.005 N
SJR-5
5 lb
2.5 kgF
25 N
0.002 lb
0.001 kgF
0.01 N
SJR-10
10 lb
5 kgF
50 N
0.005 lb
0.002 kgF
0.02 N
SJR-20
20 lb
10 kgF
100 N
0.01 lb
0.005 kgF
0.05 N
SJR-50
50 lb
25 kgF
250 N
0.02 lb
0.01 kgF
0.1 N
SJR-100
100 lb
50 kgF
500 N
0.05 lb
0.02 kgF
0.2 N
BGI Remote Sensor Force / Torque Gauge
Fully interchangeable force and torque BGI Force/Torque Sensors
Unlimited number of sensors possible due to unique design
RS-232, Mitutoyo and analog outputs
More details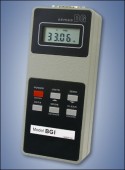 | | |
| --- | --- |
| Accuracy: | ± 0.2% of full scale ±1 digit + BGI |
| Weight: | 0.007 kg (0.015 lbs) |
| Cable Lenght: | 5 ft (1.5 m) |
| Warranty: | 3 years |