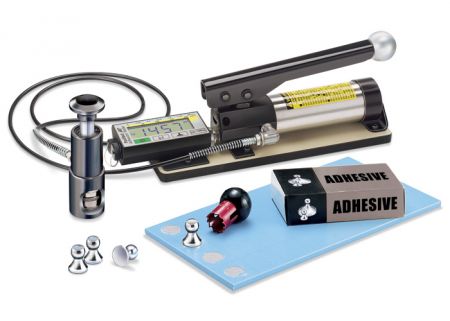 Click on an image for a larger image
PosiTest-Adhesion-Tester PosiTest Pull-Off Coating Adhesion Tester

The PosiTest adhesion tester determines the adhesion of a coating or paint layer to its substrate. This destructive adhesion test method works as follows; a metal dolly is glued to the coating or paint layer and is pulled from the substrate vertically with help of the hydraulic adhesion tester.

The pulling mechanism of the PosiTest adhesion tester is self-aligning to make sure the dolly is pulled perfectly vertical under every circumstance, producing reliable, repeatable measurements. Peeling of the dolly producing incorrect results is prevented with this mechanism.

The norm for adhesion testing prescribes the maximum pull rate, pulling too fast results in incorrect measurements. The adhesion tester is equipped with a pull rate indicator preventing the user from pulling the coating from the material too fast.
Simple
Portable, hand-operated instrument requires no external power source – ideal for lab and field use
Large, easy-to-read LCD
Pull Rate Indicator – allows operator to easily monitor and adjust the rate of pull in accordance with international test methods
Easily select dolly sizes, change measurement units or store readings, with the touch of a button
Conversion charts not required – tester automatically calculates pressure based on dolly size
Inexpensive, single-use dollies eliminate cleaning re-use and can be kept as a permanent record
Each kit comes with everything needed for testing

Durable
Weatherproof, dustproof and shockproof
Quality hydraulic pump can be used in any position
Rugged carrying case
One year warranty

Accurate
Every PosiTest adhesion tester pressure system is calibrated and certified to ± 1% accuracy using an NIST traceable load cell
Self-aligning dolly enables accurate measurements on smooth or uneven surfaces
Hi-grade, industrial pressure sensor ensures continued accuracy
Conforms with ASTM D4541/D7234, ISO 4624, SSPC-CS 23.00/AWS C2.23/NACE No. 12, and others
Versatile
Internal Memory stores maximum pull-off pressure, rate of pull, test duration and dolly size for up to 200 pulls
Optional software available for downloading to a computer
LCD displays pressure value in psi or MPa
10, 14, 20 or 50 mm dollies maximize capability and accuracy across a wide range of bond strengths
Dolly Size
Adhesion Strength
10mm
10000 psi
70 MPa
14mm
6000 psi
40 MPa
20mm*
3000 psi
20 MPa
50mm**
500 psi
3.5 MPa
* supplied with PT-AT-100
** requires 50mm kit
50 mm Accessory Kit

Ideal for lower bond strength finishes such as coatings on wood, concrete and plastic
Larger surface area of test dolly provides improved low range precision and repeatability
Range 0 - 500 psi (0 - 3.5 MPa)
Includes 50 mm stand-off, 50 mm hole saw, and 50 mm test dollies (12)

Drilling Template for 50 mm Dollies

Drilling template and drill bits to isolate test area, ideal for thicker coatings on concrete. Includes (10) drill bits 5/32" (4 mm)

PosiSoft for Windows® analysis software

Ideal solution for those who wish to download to a PC for printing or archiving
Allows entry of notes and annotations
Multi-language support including English, German, Italian, Spanish and French
Exports to a document or spreadsheet
Includes USB cable for computer hook-up

Adhesive Kit

Additional adhesive, mixing sticks, palettes and cotton swabs

Dollies

Additional supplies of standard 20 mm and 50 mm dollies
Custom 10 mm and 14 mm dollies
Pull Rate Indicator – allows operator to easily monitor and adjust the rate of pull in accordance with international test methods.
The AT-M complete kit includes 20 mm aluminum test dollies (20), abrasive pad, cutting tool, adhesive with mixing sticks and palettes, cotton swaps, batteries, instruction booklet, Certificate of Calibration traceable to NIST, instructional video all supplied in a sturdy, lightweight carrying case.

PosiTest AT-A PosiTest - Automatic Adhesion Tester
Environmentally sealed enclosure – weatherproof, dustproof and shockproof - meets or exceeds IP65
10, 14, 20 or 50 mm dollies maximize capability and measurement resolution across a wide range of bond strengths
Rotating display for horizontal and vertical use
More details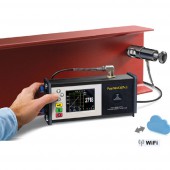 All mentioned prices are excluding VAT & excluding shipment costs.
Availability: Available , preorder 1-2 weeks , special order, request