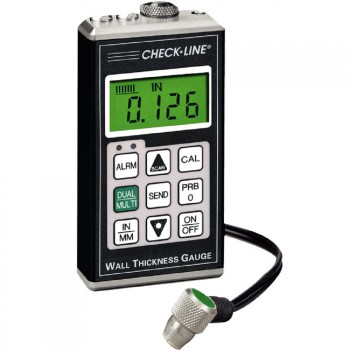 Click on an image for a larger image
TI-25M-MMX Through Paint Ultrasonic Wall Thickness Gauge
The TI-25M-MMX Through Paint Ultrasonic Wall Thickness Gauge is no longer available and has been replaced by TI-25MXT.
Click here to see the TI-25MXT.


The TI-25M-MMX precisely measures wall thickness of all metals, ceramics, glass and most rigid plastics and the extent of corrosion using ultrasonics. Measurements can be made from a single side!

The TI-25M-MMX has 2 measuring modes: Single Thickness Reading mode which measures the thickness on one point and the Scan mode which measures over a larger measuring area by "dragging" the probe: the minimum thickness encountered during the scan will be displayed then.

The probe of the TI-25M-MMX wall thickness gauge is waterproof and can also be submerged in water. It is ideal to use in tough field conditions because the gauge is impact-resistant and environmentally sealed..
Measuring Range:
Pulse-Echo Mode (Pit & Flaw Detection) measures from 0.63 to 152.4 millimeters. If uncoated up to 500mm with T-102-2000 probe.
Echo-Echo Mode (Through Paint & Coatings) measures from 2.54 to 25.4 millimeters (0.1 to 1 inch).
Resolution of 0.01 mm (0.001 inch)
Simple operator controls virtually eliminate training
Ability to measure through paint and eliminate coatings
Large, backlit LCD display retains last reading
Switch-selected units for inches or mm
CE Certified
Special-purpose probes are offered for a variety of applications
Includes NIST-Traceable Calibration Certificate
Minimum Radius for Convex Surfaces
8.89 mm
Minimum Radius for Concave Surfaces
76.2 mm
Minimum Headroom
25.4 mm
Minimum Sample Diameter
3.8 mm
Minimum Substrate Thickness - F
NA
Minimum Substrate Thickness - NFe
NA
The TI-25M-MMX is supplied as a complete kit with:
the gauge
probe
4 oz. bottle of coupling fluid
2 AA batteries
NIST Calibration Certificate
Operating Instruction Manual
all in a foam-fitted carrying case.
Range
<b>Pulse-Echo Mode</b> (Pit & Flaw Detection) measures from 0.63 to 500 millimeters (0.025 to 19.999 inches).
<b>Echo-Echo Mode</b> (Through Paint & Coatings) measures from 2.54 to 25.4 millimeters (0.1 to 1 inch).
Resolution
0.01 mm (.001")
Display
4½ - Digit, 0.5" Backlit LCD
Velocity Range
1250 to 10.000 meters/second (0.0492 to .3937 in./µs.)
Probe
5 MHz, 6.35 mm Diameter (0.25")
Probe Wearface
PEEK (Polyethlethylketone)
Cable
1.2 m (4 ft.) waterproof cable with non-polarized, quick-disconnect connectors. Optional lengths up to 15 m. (50 ft.)
Temp. Limits
Ambient:-30 to 50° C (-20 to 120° F)
Material: -20 to 100° C (0 to 200° F)
Special high temperature probes are optionally available
Battery Type
Two AA batteries
Battery Life
200 hours
Weight
196 g (7 ounces)
Size
64 x 114 x 32 mm
(2.5 x 4.5 x 1.25")
Accessories Included
Probe/cable assembly. 4 oz. bottle of coupling fluid, NIST Calibration Certificate, 2 AA batteries, operating instructions, hard-plastic carrying case.
Warranty
Gauge: 5 Years
Probes: 90 Days

Selection Guide - Pit & Flaw Detection (Pulse-Echo) Mode
Model Number
Maximum Coating
Minimum Wall
Maximum Wall
All Models
0.50 mm (0.020")
2.54 mm (0.100")
152.4 mm (6.000")
Selection Guide - Thru-Paint (Echo-Echo) Model
Model Number
Maximum Coating
Minimum Wall
Maximum Wall
TI-25M-MMX
1.00mm (0.040")
2.54mm (0.100")
25.4mm (1.000")
TI-25M-MMX-EXT
2.00mm (0.080")
5.08mm (0.200")
127.0mm (5.000")