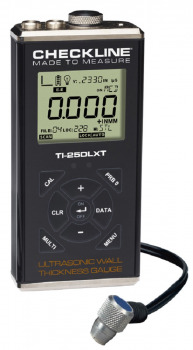 Click on an image for a larger image
TI-25DLXT Multi mode Ultrasonic Thickness Gauge with data memory

The latest CHECK-LINE TI-25DLXT Wall Thickness Gauge is deployed for precise one-side measurements of wall thickness and corrosion of all metals, ceramics, glass. In E-E Mode (Thru-Paint Mode), the coating is eliminated from the reading and the measurement device will display only the thickness of the metal wall.
The TI-25DLXT offers data logging for 10.000 values with 250 readings per batch, up to 40 separate batches and USB Output. Data can be transferred into any program in CSV format or viewed in Datacomm Software (free download).
The TI-25DLXT permits the operator to select from 8 preset materials as well as program 2 custom material velocities, plus allows free adjustment of the velocityand allows the end-user to calibrate to a sample of known thickness where the velocity is automatically calculated. Additionally, to optimize linearity over a wide range, the user can perform a 2 point calibration to two samples of known thickness. The optimal velocity is automatically calculated to provide the highest accuracy and linearity between the low and high calibration points.
The calibration and other setup parameters can be locked to prevent any accidental adjustments.
The TI-25DLXT can be used in demanding application environments: the probe is waterproof and the the gauge is impact-resistant and environmentally sealed (IP65) .
Datalogger for 10.000 values stored in up to 40 batches (max 250 measurements per batch)
USB output - Data transfer through drag and drop to PC
8 Preset material settings as well as 2 custom programmable quick select setups
5 years warranty on device
The TI-25DLXT ultrasonic wall thickness gauge is supplied in a rugged foam filled plastic case.
The complete kitt includes a small bottle of coupling fluid, 2 AA batteries, USB output cable, NIST-Traceable Calibration Certificate, and Operating Instruction Manual and a standard probe (not with TI-25DLXT-WOP version).
Minimum Radius for Convex Surfaces
8.89mm (0.350")
Minimum Radius for Concave Surfaces
76.2mm (3")
Minimum Headroom
25.0mm (1")
Minimum Sample Diameter
3.8mm (0.150")
Minimum Substrate Thickness - F
N/A
Minimum Substrate Thickness - NFe
N/A
| | |
| --- | --- |
| Range in Steel: | Pulse-Echo Mode (Pit & Flaw Detection) measures from 0.63 to 500 millimeters (0.025 to 19.999 inches) Echo-Echo Mode (Through Paint & Coatings) measures from 2.54 to 25.40 millimeters (0.100 to 1.000 inch ) (range depends upon probe selected) - five probes to choose from |
| Velocity range: | 305 to 18,542 meters/sec / 0.0120 to .7300 in/μsec |
| Resolution: | 0.01mm (0.0001 inch) |
| LCD Display | Multi-segment display with 7 segment 4.5 digit liquid crystal display with 0.500" digit height. Two 0.125" 14 segment fields for labels and values, and one 7 segment field for labels and values. Additional icons to indicate features and modes |
| LCD Backlight | Backlight operation is selectable auto/on/off and adjustable brightness Lo/Med/Hi. |
| LCD Refresh Rate | 10 Hz |
| Battery Type | 2x AA batteries (rechargeable batteries can be used) |
| Expected Battery life | 45 hours continuous |
| Gauge Body | Extruded aluminum body with nickel-plated aluminum end caps (gasket sealed) |
| Gauge Body Rating | IP65 |
| Gauge Body Weight | 308 grams (11 ounces) |
| Gauge body Dimensions | 63.5mm x 131.3mm x 31.5mm (2.5" x 5.17" x 1.25") |
| Datalogger | 10000 values stored in up to 40 batches (max. 250 measurements per batch) |
All mentioned prices are excluding VAT & excluding shipment costs.
Availability: Available , preorder 1-2 weeks , special order, request