TSC-TW Cam-Over Torque Wrenches
The TSC Cam-Over Torque Wrench is a precision production tool perfectly designed for the application of a set amount of torque.
The unique cam action of the TSC Cam-Over Torque Wrench prevents over-torquing when a user-set torque is reached and is designed and manufactured to meet or exceed the accuracy and repeatability requirements of ISO 6789.2003 (+/- 6% of setting).
TSC-TW features an externally adjustable micrometer scale and easy-to-use positive locking adjustment system.
Slim profile and light weight.
Anodized quality finish with stainless steel head.
Comfortable rubber hand grip.
Non-length dependent.
ESD compliant (IEC 61340-5-1:1998).
| | | | | | |
| --- | --- | --- | --- | --- | --- |
| Model | Ranges | Graduations | Sq. Drive | | |
| TSC5 | 1 - 5 N.m | 0.05 N.m | 1/4" | | |
| TSC10 | 2 - 10 N.m | 0.01 N.m | 1/4" | | |
| TSC45 | 10 - 45 lbf.in | 0.5 lbf.in | 1/4" | | |
| TSC90 | 20 - 90 lbf.in | 1.0 lbf.in | 1/4" | | |
Cic-Torque Torque Instrument Calibration
Short turnaround
Easy planning of calibration
More details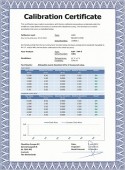 TWT-400 Torque Wrench Test Stand
The flexible design of the TWT-400 is easy to use and is suitable for various torque wrench lengths and brands
3 modes of operation: Track, Peak and 1st Peak
Eight (8) selectable engineering units: Oz.in., Lb.in., Lb.ft., Nm, cNm, KgfCm, gfCm, Kgfm
Bidirectional accuracy of ±0,25% of indicated reading
More details