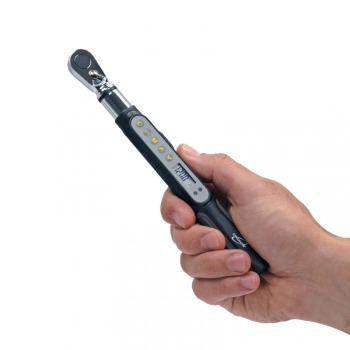 Click on an image for a larger image
DTF Digital torque wrench with female hex drive
The new Digital Checkline DTF Torque Wrench is ideal for applications which require highest precision.
The DTF torque wrench has a slim design and can be deployed for torque applications in a range of industries such as the automotive, aerospace and more. Furthermore, its 1/4 "female hex drive with ratchet head make it perfectly suitable for applications in restrained spaces.
Measurements can be made clockwise (CW) or counter clockwise (CCW), while real-time or maximum (peak) measures are visible on the display. A red and green LED combined with a beep sound indicate when the set torque value is displayed and up to 9 setpoints can be programmed.
The DTF exists in 3 versions:
DTF-50: 1,2 - 6, 00 N-m
DTF-100: 2,4 - 12,00 N-m
DTF-175: 4,0 - 20,00 N-m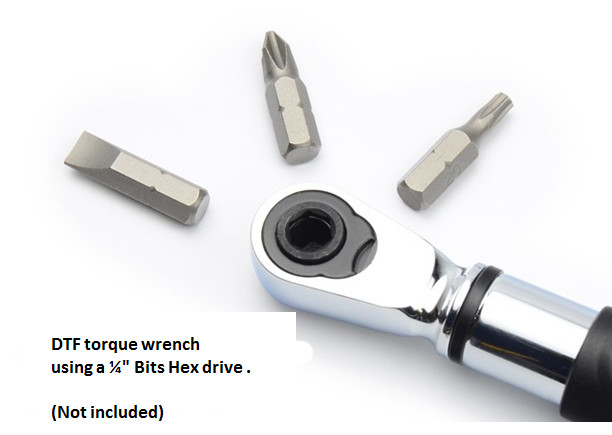 Selectable measuring units Nm, lb-in, ft-lb or kg-cm
Application in clockwise (CW) and clockwise (CCW)
2 operating modes Peak and Track
9 programmable setpoints
CE certified
Calibration certificate included, calibrated range 20-100% of capacity
Model
Measurement range
DTF-50
1.2 - 6 Nm
DTF-100
2.4 - 12 Nm
The measured value output on both models ranges from 5 - 100% of the capacity. The guaranteed accuracy of CW ± 2% / CCW ± 3% of the displayed reading is only valid within the calibrated range of 20 - 100%.
The DTF ist delivered in a complete kit consisting of:
torque wrench
1/4 "outside hex to 1/4" outside square adapter
1 AAA battery
operation manual
calibration
plastic carrying case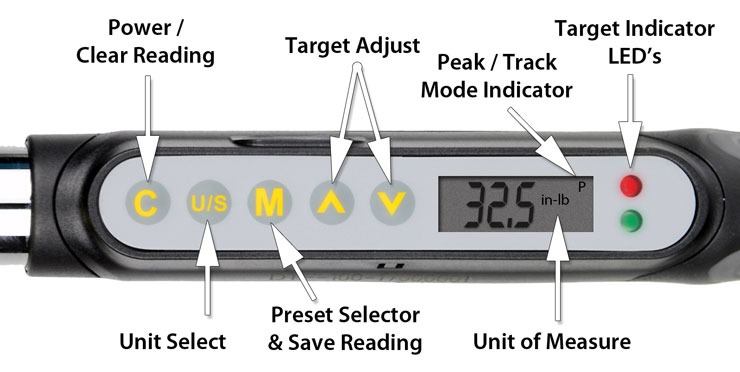 DTL-100i Low Range Digital Torque Wrench
Displays in-lb, N-m, Kg-cm and ft-lb units (User selectable)
CW and CCW operation
Peak or Real-Time (track) mode (User Selectable)
More details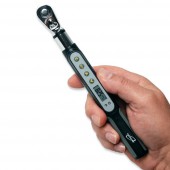 TSD Torque Screwdriver
Real time & Peak Torque Measurement
9 Programmable Target Torque Setpoints
More details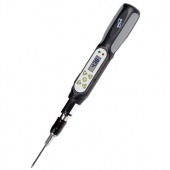 Precision:
CW ± 2% / CCW ± 3% of displayed reading from 20 - 100% of capacity
Operating modes:
Real time and maximum
Measurement units:
ft-lb, in-lb, N-m, Kg-cm
Dimensions:
Length: 20 mm
Head:
Ratchet with shift lever
Battery:
1 AAA
Operating time:
12 hours usage
1 year standby
Operating temperature:
-10°C ~ 60°C
Storage temperature:
-20°C ~ 70°C
Humidity:
Up to 90% relative humidity
Warranty:
1 year
Autozero:
For zeroing