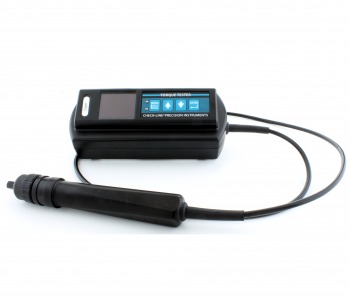 Click on an image for a larger image
DTSM Digital Micro Torque Screwdriver
The DTSM is a torque measuring manual screwdriver designed for lab and production use.
The Large Color Organic LED (OLED) Display measures bi-directional torque in real-time or peak modes. USB data output allows the user to graph torque vs time with optional SW-1SD software.

The DTSM has an Accuracy of ± 1% of Actual Reading from 10%-100% of full Scale, ±1 LSD and has programmable setpoints that provide both an audible beep and green/red LED signals for uniform tightening or GO/NO GO testing.
Use the > 2000 internal memory for data recall

The DTSM substantially reduces scrap and rework costs by eliminating over and under-tightening and is ideal for use in a wide variety of applications including the manufacture of electronic, appliance and aerospace assemblies.
2 models:
- PR: professional model with peak torque and memory
- SP: topmodel with PLC & SPC output and presets

7 ranges available up to 5 N-m
Easy to use
Over 180 hours of battery life
Large Color Organic LED Screen with high visibility and warning signals
Accuracy of measurement better than 1%
Traceable Calibration Certificate included
1 year warranty
| Feature Comparison Chart | EZ | PR | SP |
| --- | --- | --- | --- |
| Peak Measurement Mode | - | | |
| Memory (2000+ Measurements) | - | | |
| USB Output, Software & Cable | - | | |
| SPC & PLC Output | - | - | |
| 99 Programmable Presets | - | - | |
| Multiple languages | - | - | |
| Calibration Reminder; by date or # of measurements | - | - | |
Torque ranges
Model
Range
Drive
DTSM-5
0.5 - 5 N-cm
1/4"
170mm
DTSM-10
1 - 10 N-cm
1/4"
170mm
DTSM-50
5 - 50 N-cm
1/4"
170mm
DTSM-150
15 - 150 N-cm
1/4"
170mm
DTSM-200
20 - 200 N-cm
1/4"
170mm
DTSM- 350
35 - 350 N-cm
1/4"
170mm
DTSM- 500
50 - 500 N-cm
1/4"
170mm
Display
4 digit LCD
Accuracy
Better than 1% accuracy LH & RH Threshold to Max
Weight
750 g
Working Time
180 hours
Power Supply
4x AA Standard or rechargeable batteries
Auto Power Save
Automatic power down
Data Transfer
PLC communication using ASCII or Binary Transfer
RS232 & USB bi-directional communications
Presets
99
Drive Size
1/4"
Operation
CW, CCW
Operationmodes
PR: Trac, Preset, Units, Peak, Upload, Set, Backlite
SP:Trac, Preset, Units, Peak, Upload, Set, Backlite, Recall, Clear, Date, Language, Comm
Data Memory
2094 values
Warranty
1 year
All mentioned prices are excluding VAT & excluding shipment costs.
Availability: Available , preorder 1-2 weeks , special order, request