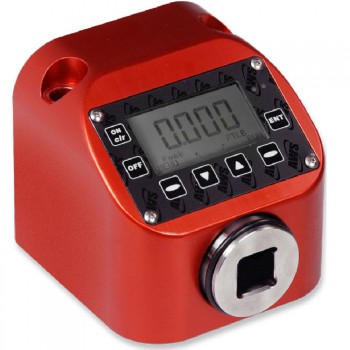 Click on an image for a larger image
TT-QCM Torque Tool Tester for torque tool calibration

Bidirectional accuracy of ± 0.5% of indicated reading (± 0.25% is optional)
NiMH rechargeable batteries provide up till 10 hours continuous use
CE Certified and NIST Calibration Certificate
Rugged Aluminum Housing
3 modes of operation: Track, Peak and 1st Peak
Eight (8) selectable engineering units: Oz.in., Lb.in., Lb.ft., Nm, cNm, KgfCm, gfCm, Kgfm
Torque ranges
Model
Range
Drive
Size
Run-down fixture
TT-QCMIO-10*
0.007 - 0.07 N-m
1/4"
Y
TT-QCMIO-50*
0.0 - 0.3 N-m
1/4"
Y
TT-QCMIO-100
0.07 - 0.7 N-m
1/4"
Y
TT-QCM-10i
0.11 - 1.2 N-m
1/4"
Y
TT-QCMIO-200
0.14 - 1.4 N-m
1/4"
Y
TT-QCM-25i
0.28 - 2.8 N-m
1/4"
Y
TT-QCM-50i
0.56 - 5.6 N-m
1/4"
Y
TT-QCM-100i
1.12 - 11.2 N-m
1/4"
Y
TT-QCM-150i
1.6 - 16 N-m
1/4"
Y
TT-QCM-250i
2.8 - 28 N-m
3/8"
Y
TT-QCM-500i
5.6 - 56 N-m
3/8"
Y
TT-QCM-750i
8.4 - 84 N-m
3/8"
Y
TT-QCM-1000i
11.2 - 112 N-m
3/8"
Y
TT-QCM-100F
13.5 - 135 N-m
1/2"
Optional
TT-QCM-150F
20 - 203 N-m
1/2"
Optional
TT-QCM-250F
33 - 338 N-m
1/2"
Optional
TT-QCM-500F
67 - 670 N-m
3/4"
Optional
TT-QCM-600F
81 - 810 N-m
3/4"
Optional
TT-QCM-750F
101 - 1016 N-m
3/4"
Optional
TT-QCM-1000F**
135 - 1350 N-m
1"
Optional
TT-QCM-2000F**
271 - 2710 N-m
1"
Optional
*QCMIO-10 + 50 accuracy is +/-1% from 10-100% of capacity
**Ranges over 1000 N-m are supplied as cable connected external sensors. Please contact us for more information.
All 1/4" and 3/8" Drive transducers are supplied with run-down fixtures.
Don't see the range you need?
Custom ranges are available, please call us to discuss your application.
ER - Extended Range Option increases certified range to 5-100% (instead of 10-100%)
| | |
| --- | --- |
| Calibrated Range | 10-100% Full Scale, bi-directional |
| Accuracy | ±0.5% of indicated (within calibrated range) (±0.25% is optional) |
| Resolution | 4 Active Digits |
| Overload Protection | 200% Full Scale bi-directional |
| Operating Modes | Track, Peak, 1st Peak |
| Data Output | RS-232 |
| Filtering | Selectable; 125Hz, 250Hz, 500Hz, 1000Hz, 1500Hz and 2000Hz |
| Alarm Limits | Panel Mounted LED for Visual Alarm Limits |
| Memory | data storage of up to 999 readings |
| Power | Internal NiMH battery, AC Adapter / Charger (included) |
| Weight | Aproximately 1,5 kg, depending on transducer |
| Operating Temperature | 0-50 °C |
| Calibration Certificate | Includes NIST Traceable calibration certificate with data |
| Standard Accesories | Joint Simulator for 1/4" & 3/8" drives, AC adapter/Charger |
| Optional Accessories | Joint Simulators for 1/2", 3/4" & 1" Transducers |
TWT-400 Torque Wrench Test Stand
The flexible design of the TWT-400 is easy to use and is suitable for various torque wrench lengths and brands
3 modes of operation: Track, Peak and 1st Peak
Eight (8) selectable engineering units: Oz.in., Lb.in., Lb.ft., Nm, cNm, KgfCm, gfCm, Kgfm
Bidirectional accuracy of ±0,25% of indicated reading
More details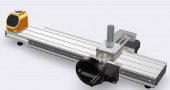 RDF Joint Simulators / Run Down Fixtures
Required for accurate torque measurement for power-driven torque controled tools (electric, hydraulic or pneumatic)
More details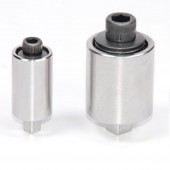 TT-QC-CC Waterproof Carrying Case
Meets ATA 300 specifications for transit cases and rigorous standards for military use (STANAG 4280, DS 81-41, IP67)
Injection molded using an advanced patented light-weight high-strength plastic
More details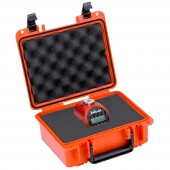 All mentioned prices are excluding VAT & excluding shipment costs.
Availability: Available , preorder 1-2 weeks , special order, request