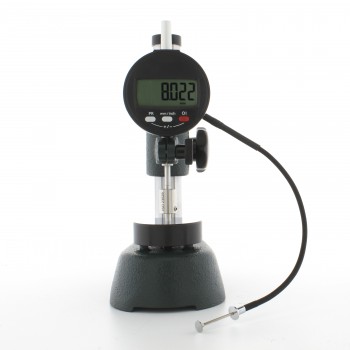 Click on an image for a larger image
RTG-ISO23529 Rubber Thickness Gauge according to ISO 23529
The RTG-ISO23529 Rubber Thickness Gauge according to ISO 23529 is no longer available and has been replaced by TMG.
Click here to see the TMG.

The RTG is a cost efficient and easy to use instrument for measuring the thickness of rubber or rubber-like materials. This rubber thickness gauge is suitable for rubber with hardness > 35 IRHD.
As an option, an additional feeler can be supplied to make this rubber thickness meter suitable for materials hardness < 35 IRHD.
This thickness gauge works fully conform the ISO 23529 standard and comes with a certificate confirming the feeler diameter, shape and constant measuring pressure.

Economical and Easy to use
Manufacturer calibration certificate and DAkkS calibration for the dial gauge optional available
Simple solid design
Conforming ISO 23529
Manual lifter and cable release
Optionally a ceramic table is available (RTG-CE).
Ceramic will resist environmental influences better and should be ordered when gauge is used outside a conditioned environment.
Can also be supplied with an optional Ø6 mm feeler that provides 10 kPa ± 2 kPa measuring pressure.
Suitable for rubber with a IRHD Hardness of 35 and lower.
Accuracy
± 5 µm
Measuring Range gauge
12.5 mm
Max. Object Size
Approx. 90mm
Resolution
0.001 mm
Measuring Table
Ø50 mm
Feeler Size
Ø4 mm (≥35 IRHD)
Optionally Ø6 mm ( < 3 5 IRHD)
Feeler Pressure
22 kPa ± 5 kPa - Ø4 mm feeler (>35 IHRD)

Optionally
10 kPa±2 kPa - Ø6 mm feeler ( < 35 IHRD)
Applicable Norm
ISO 23529
Net Weight
2.5 kg
Dimensions
85 x 135 x 200mm
Power
Button cell CR2032