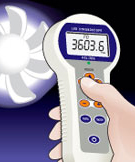 The
ESL-200 LED
is a super bright, battery operated, LED stroboscope designed to measure and observe rotating, reciprocating and linear motion in a variety of production, quality control and academic applications. It generates an extremely bright light relative to its compact size.
The
ESL-200 LED
stroboscope is designed to measure the speed of rotating or cycling linear motion objects without contact or reflective tape, as well as freeze motion visually. Lifetime LED lights using pulse width modulation, encased in an aluminum housing, and powered by a NiMH rechargeable battery, make this pocket strobe extremely durable and capable of high flash rates.
The
ESL-200 LED
is an ideal inspection strobe for for speed, motion and vibration analysis, such as rotating shafts, fans, cams, etc.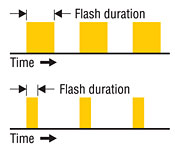 Adjustable Flash Duration
For most applications standard flash duration works without adjustment. For ultra high speed applications, objects may move during the brief period of a single flash, resulting in a blurred image. By decreasing flash duration, objects have less time to move and the image appears sharper.