Raytek MTFS Food Safety IR Thermometer
The Raytek® MiniTemp™ FoodSafety (MTFS) model noncontact infrared thermometer is calibrated to assure the greatest accuracy in the food critical zone of 0 to 60°C where harmful bacteria grow most rapidly. Remove the hazard of cross-contamination and reduce the time a traditional probe requires. Quick, simple scans with the Raytek MiniTemp FS save time and money by instantly finding potential problems. An integral part of the HACCP routines of food service professionals everywhere, the Raytek MiniTemp FS measures temperatures up to 200°C.
Fastest way to measure critical food temperatures
Laser sighting for accurate aiming
Ideal for daily HACCP routine
Engineered specifically for use in food safety applications
Backlit LCD display
Optional nylon holster available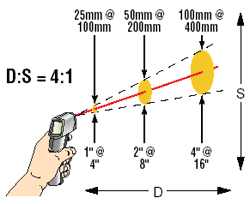 The MiniTempFS is intended for close range, within 60 cm (2 feet) of the target. The measurement area will be approximately the distance divided by four.

Laser Point™ Single-point laser indicates theapproximate center of the target spot.
| | |
| --- | --- |
| Temperature Range: | -30 to 200°C |
| Accuracy: | (assumes ambient operating temperature of 23°C) |
| - below 0°: | ±1°C + 1% of reading |
| - between 0 to 65°C: | ±1°C |
| - above 65°C: | 1.5% of reading |
| Repeatability: | Within accuracy specifications of the unit |
| Spectral response: | 8 to 14 µm |
| Response time: | 500 mSec, 95% of reading |
| Ambient Operating Temperature: | 0 to 50°C |
| Distance to Spot (D:S): | 4:1 |
| Emissivity: | Pre-set at 0.97 |
| Laser Sighting: | Single point |
| Display Hold: | 7 seconds |
| Temperature Display: | °C or °F selectable |
| Display Resolution: | 0.5°C |
| Power: | 9V Alkaline or NiCd Battery |
| Weight: | 340 g |