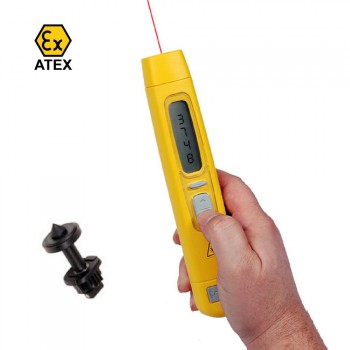 Click on an image for a larger image
ET-2109LSR Intrinsically Safe Tachometer
The new CHECK-LINE ET-2109 explosion proof tachometer is certified EEx ia IIC T4 - ATEX II 2 G to allow for use in a wide range of hazardous environments including petrochemical, Gas & volatile materials processing industries.
The simple 3 pushbutton operation and the large clearlyreadable display with over-head facility enables a wide, flexible field of application. This light-weight device provides an easy one handed operation and facilitates the carrying-out of measurements after which it can be stowed away in the tool box or jacket pocket.
Operation
ON button – Auto-Off after 1 min.
HOLD function for 1 min. after releasing button
Programming function using 3 buttons
Statistic functions (min, max, average)
Display
5 digit
large display
LOW-batt. display
pulse recognition
function mode
Note:
The ET-2109LSR is not certified for use in Mines.
Explosion-Proof Housing
Vertical display with 180° inversion capability
Memory holds last reading for 1 minute
Includes calibration certificate
Ex designation:
II 2 G EEx ia IIC T4
The ET-2109 is supplied as a complete kit
tachometer,
reflective tape,
contact adapter,
calibration
certificate,
instruction manual (english),
4xAAA batteries
all in a hard plastic carrying case.
Combination Contact Adapter/Surface speed & length Adapter Included.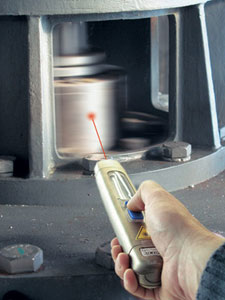 Cic-Tacho
Easy planning of calibration
Short turnaround
Exclusively using a standard which is traceable to Britisch national standards and International standards ISO/IEC 17025
More details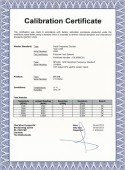 Ex designation:

II 2 G EEx ia IIC T4
EC-Certificate of Conformity:
Baseefa 01 ATEX 2301 X
Measuring system:
optical / laser reflection
Measuring Range
3.0 - 99,999 rpm
0.3 - 1,500.0 Meters or Yards/min
(4,500 ft/min) or seconds
Optical Sensing Range
2 - 80" / 50 - 2000mm
Count
0-99999 revs or length in linear
Time Interval
0-99999 seconds (auto)
Memory Hold
Holds last reading for 1 minute
Housing Material
High Flow ABS - Metalised
Dimensions
21 L x 4 W x 3.5 D - cm
Measuring Wheel
Included, 0.1 meter circumference
Sensing Distance
1 meter (39 inches)
Battery Life
6 hours continuous (shorter when using rechargeable type
Display Update Rate
0.8 seconds/update (0.1 sec for Max Value capture)
Important!
IMPORTANT NOTE: These models must only be used with Duracell "Procell" batteries which are officially approved for this instrument. Use of other AA cells will invalidate I.S. Certification.