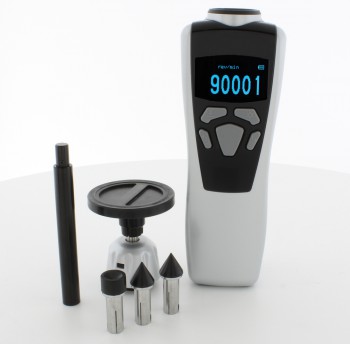 Click on an image for a larger image
DT-2100 Handheld Tachometer with USB Output - Combination Contact / Non-Contact
The new Checkline Europe DT-2100 is a state-of-the-art combination contact / non-contact hand-held tachometer. The advanced DT-2100 features data-logging, USB output and a programmable scaling feature to offset RPM according to application variables. A backlit LED Display with upper/lower limit icons and a unique X-Y Graphic mode is also featured on this device. Additional display modes like for instance the "Needle Sweep" and "Bar Graph" offer the user a choice of how to view the data. The display may be inverted to optimize the viewing angle.

The tachometer measures RPM up to 99,999 RPM at distances from 5 cm up to 400 cm in non-contact mode . When using the supplied screw-on adapter, the DT-2100 is also capable of measuring contact RPM, surface speed, or length.

Data logging can be set for single point or continuous logging. Single data points as well as statistics (Max, Min, Average) can be stored in the built-in memory and recalled to the display. Users often need to adjust machinery during testing, whereas the DT-2100 can be mounted on a tripod, continuous logging may be selected and machinery adjusted as necessary. You can easily review the data, following testing, on the DT-2100's display or download it to a computer using the optional PC Software.

A calibration certificate is available optionally.
Built-in Memory with USB Data Output
Data Logging with Continuous, Single Unit or Statistics modes
1/4-20 Threaded Insert on bottom of housing for fixed-mounting or use on Tripod
Reversible Display
Programmable multiplier to convert reading based on wheel diameter, gear ratios, etc...
On-screen hi-lo limits for pass/fail analysis
View data and statistics on tachometer display or with optional Windows software
Non-Contact length measuring mode (requires reflective tape for edge of roller)
Auto-detection of contact adapter
Powerful laser for non-contact measurements from 5 to 400 cm
The DT-2100 is supplied as a complete kit with:
Tachometer,
2 Cone adapters,
Funnel adapter,
3.5 Inch extension shaft,
Surface speed wheel (6 inch circumference),
Reflective tape,
2 AA batteries,
Contact adapter
Carrying case
CDT-2000HD Contact and Non-Contact Digital Tachometer
Built-in memory stores maximum, minimum, average and last reading for recall to the display
Measures speeds from as low as 1.00 rpm up to 99,999 rpm
NEW - Molded Rubber Shell Provides Additional Physical & Environmental Protection
More details
Range
Non-contact: 6-99,999 rpm
Contact: 0.8-25,000 rpm
Accuracy
±0.006% of reading ±1 least significant digit
Measuring Units
Speed: rpm, m/min, cm/min, inch/min, ft/min, yds/min, rps, m/sec, cm/sec, inch/sec, km/hr, mph
Distance: cm, m, km, in, ft, yd
Memory
Continuous Mode: 1000 readings
Single Mode: 100 readings
Statistics Mode: 100 readings
Measuring Distance
5 to 400 cm
Display
Graphical Blue Light OLED, reversible
Display Update Time
Selectable: 100 ms, 500 ms, 1 sec, 5 sec
Power
2 AA 1.5V batteries or USB
Battery Life
Approx: 20 hours with brightness set to 20%
Temperature Limits
0º - 45ºC Non-Condensing
Construction
Polycarbonate
Dimensions
155 x 55 x 35 mm
Included Accessories
2 Cone adapters, Funnel adapter, 3½ inch Extension shaft, surface speed wheel (6 inch circumference), 2 AA batteries, contact adapter and carrying case
Product name
Price
Quantity
Product name
Price
Quantity
All mentioned prices are excluding VAT & excluding shipment costs.
Availability: Available , preorder 1-2 weeks , special order, request